DIRECTIVE WEBINAR
KEEP GROWING TOGETHER:

Developing Society Lean Leadership & Culture.
Welcome to the Directive Webinar 
with Francisco Ocejo 
General Manager of ALFRA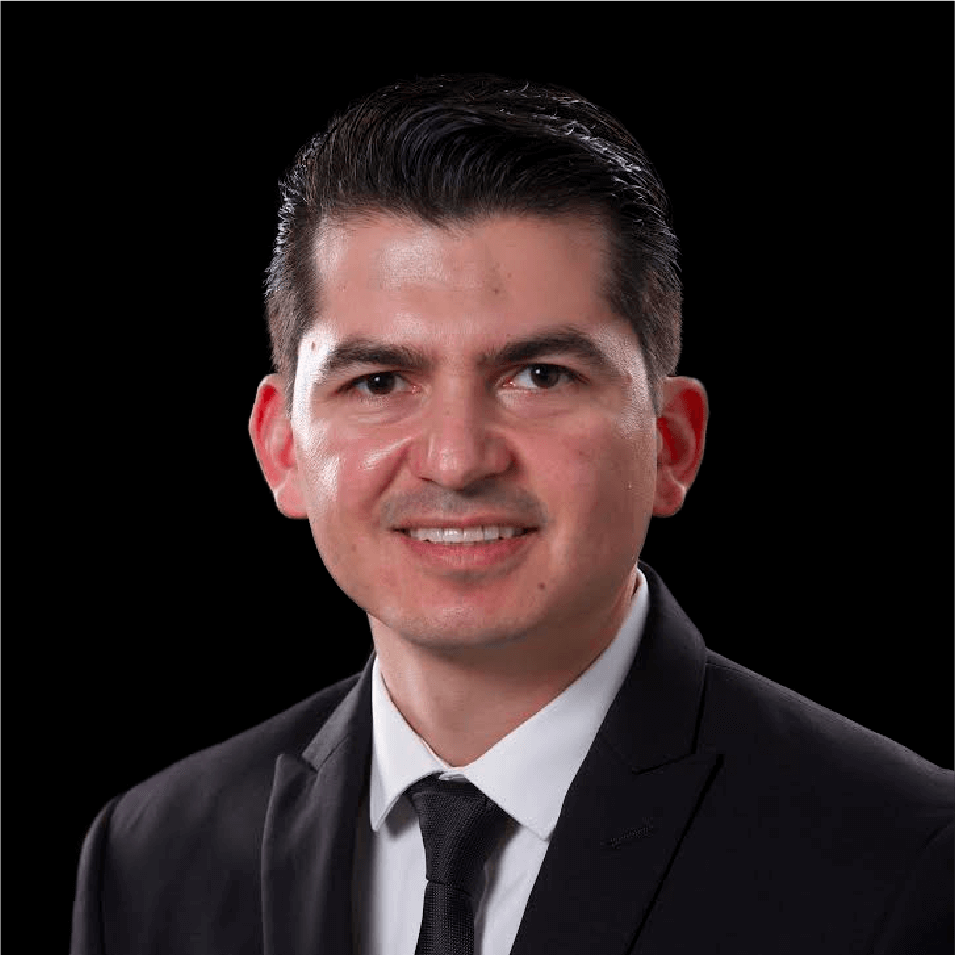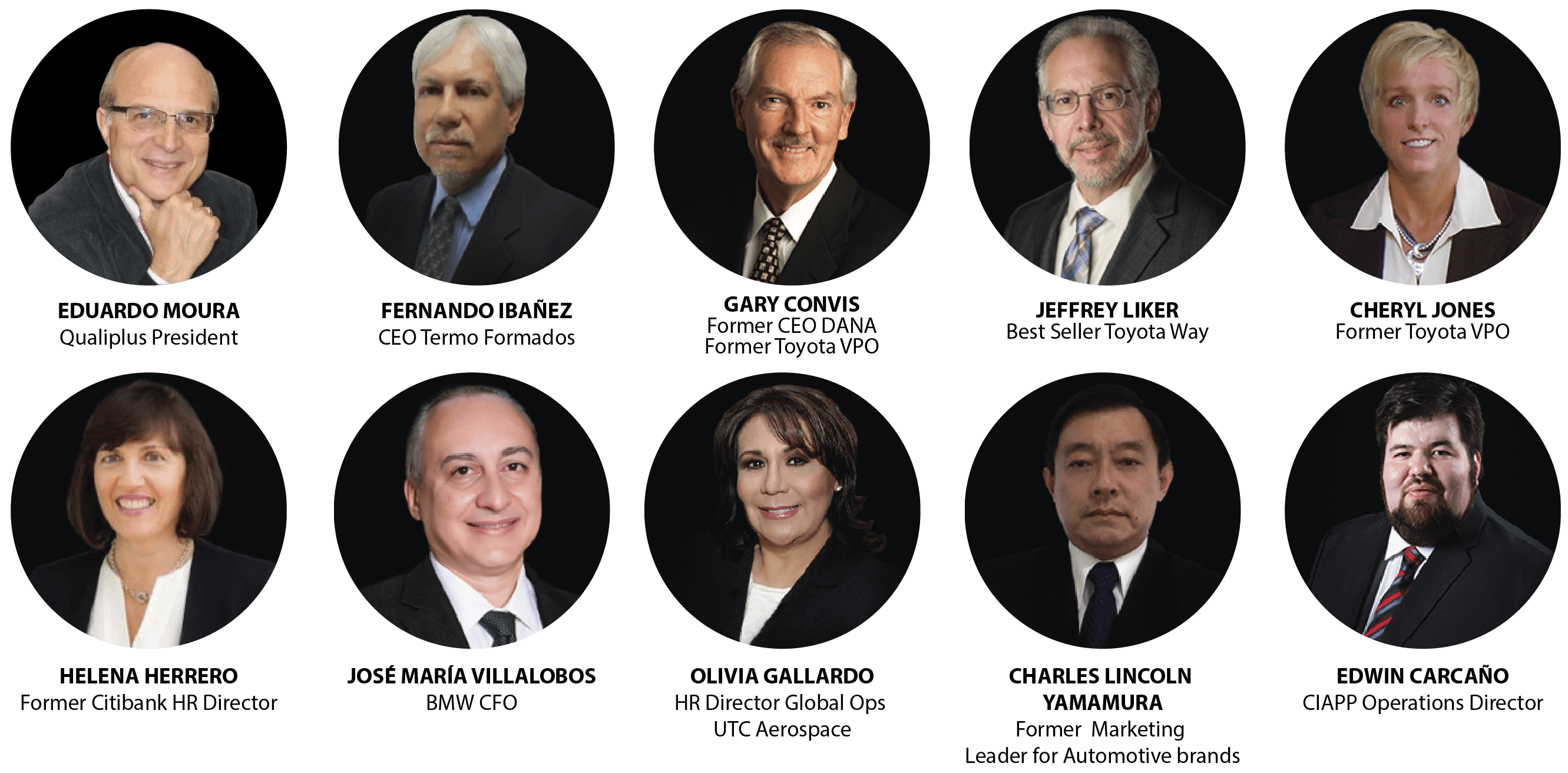 CONNECTION

A channel that connects the expertise of top executives with world leaders across, different topics and industries.

GROWTH

In which we seek to grow knowledge together.

FREE OF CHARGE

A free, not-for-profit channel

TRANSMISSION

It is a free transmission to share in which you can learn about a topic in 60 minutes plus 30 minutes of discussion between the moderator and the expert as well as questions and answers from the attendees.

SIGN UP

Attend our webinars by registering on the registration button for free, if you can´t attend the day and time, you can see the recording for an administrative cost of 10 usd in our digital platform.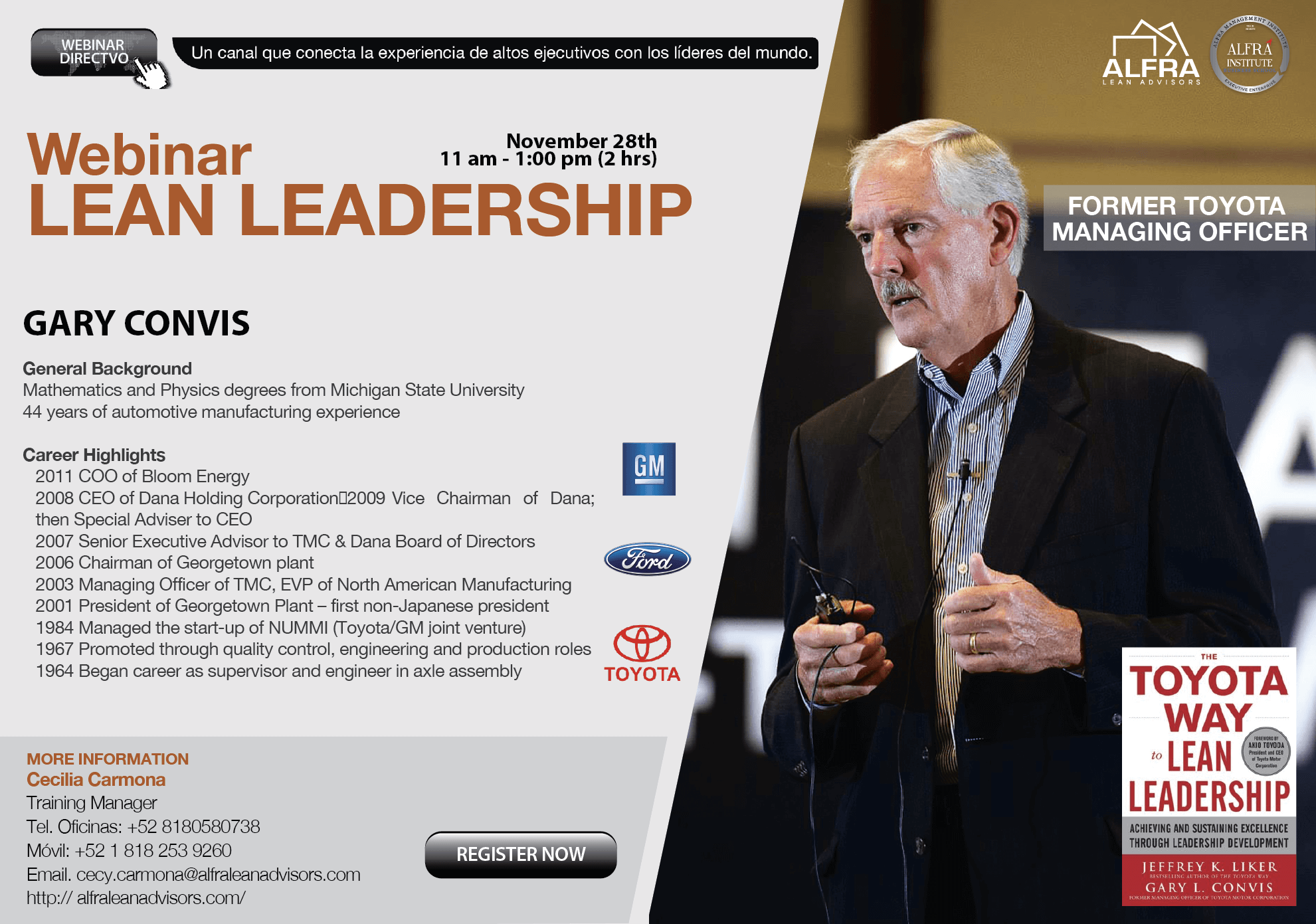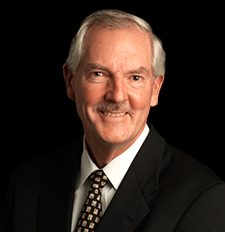 GARY CONVIS
Former Toyota Motors North America Vicepresident / Former CEO DANA Corporation / Former COO Bloom Energy / +44 years of automotive manufacturing experience
17 principles of the Toyota Way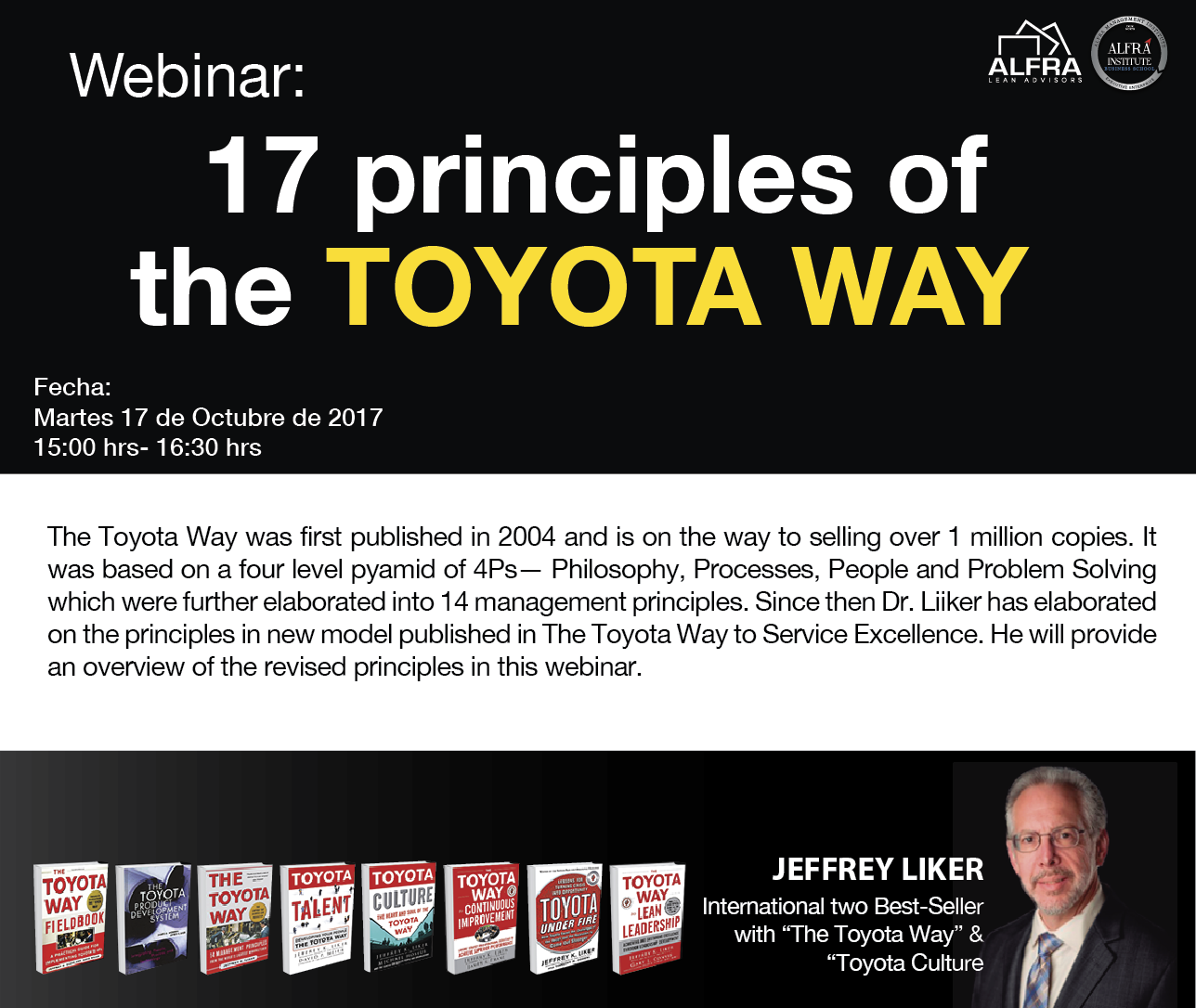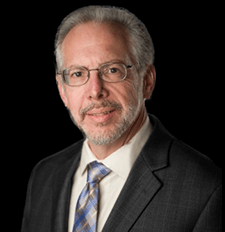 JEFFREY LIKER
Professor University of Michigan. Nine Shingo Prize for Reasearch Excellence. Book of the year 2005 IIE. Sloan Industry Book of the Year 2007 MIT. Hall of Fame 2012 AME.
Artificial Intelligence in manufacturing and product development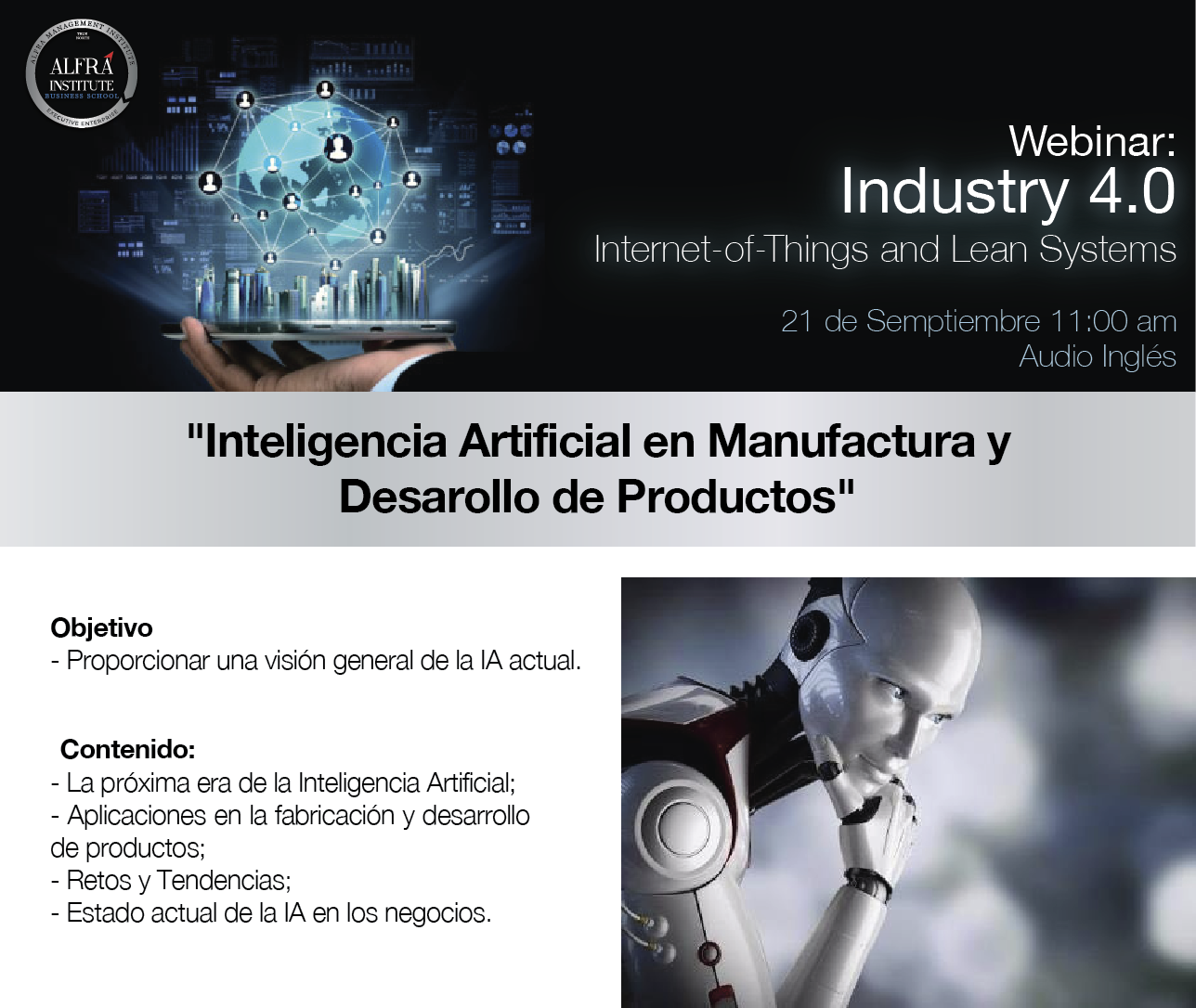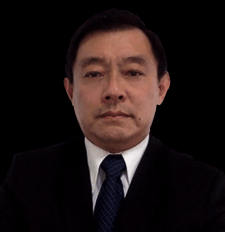 CHARLES YAMAMURA
Master on Business Administration, Master of Science in Business. +20 years of experience in Marketing, Product Planning and Development, Strategy.
So we can know you more about your needs
The Toyota Way was first published in 2004 and is on the way to selling over 1 million copies. It was based on a four level pyamid of 4Ps— Philosophy, Processes, People and Problem Solving which were further elaborated into 14 management principles. Since then Dr. Liiker has elaborated on the principles in new model published in The Toyota Way to Service Excellence. He will provide an overview of the revised principles in this webinar.
Martes 17 de Octubre de 2017 15:00 hrs- 16:30 hrs
Content:
It's not the product or service, it's the experience

Customer Experience & Customer Journeys

Employees as Brand Ambassadors

Digital HR
Fecha:
Jueves 14 de Septiembre de 2017 11:00 hrs- 12:30 hrs
Objective: 
To provide an overview of current AI
Contents:
The coming age of Artificial Intelligence; 

Applications in manufacturing and product development; 

Challenges and trends; 

Current status of AI in business. 
Jueves 21 de Septiembre de 2017 11:00 hrs- 12:30 hrs