OEM MODEL- WCM, TOYOTA WAY & TOYOTA CULTURE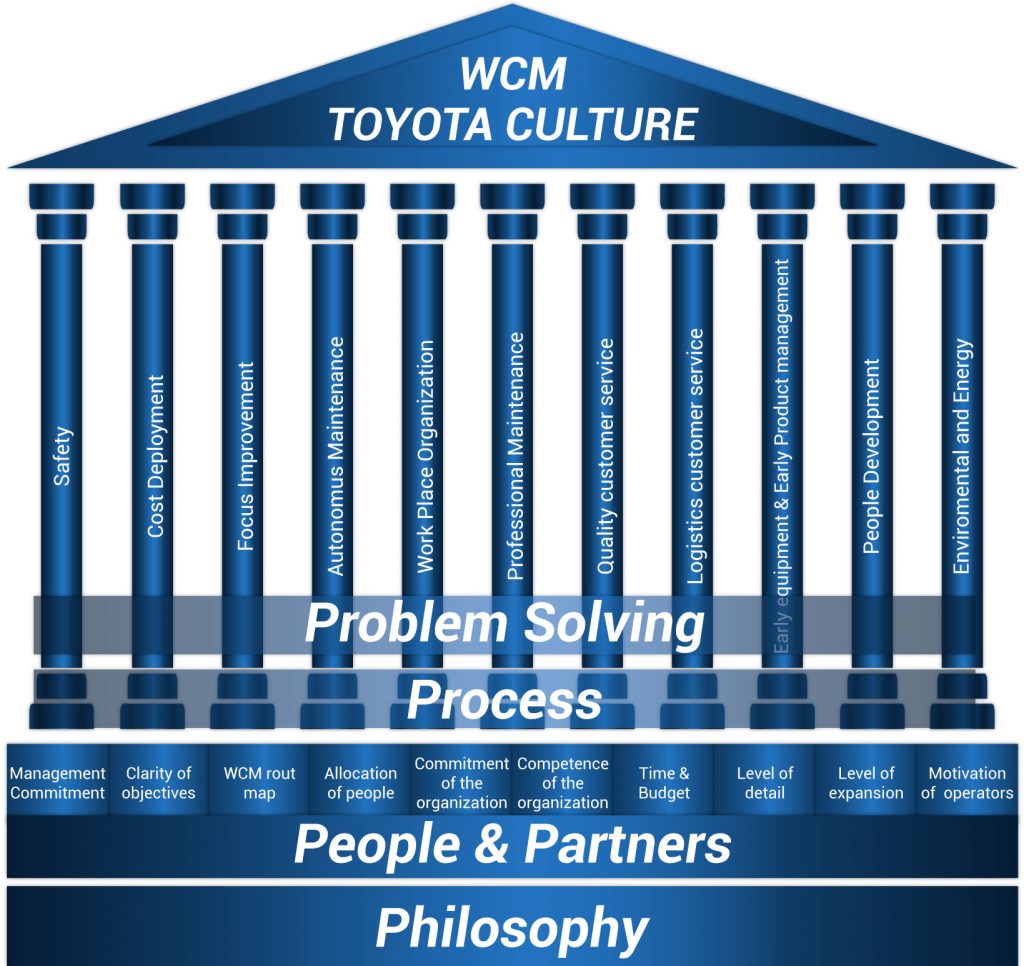 Chronic, unachieved EBITA sounds the death knell for your company. The talent behind the creation of the Operational Excellence Model has saved myriad departments, facilities, and entire companies from decay with their shared philosophy of a long-term, holistic vision.The OEM team members are gurus in Total Quality Management, Lean Thinking (VSM-JIT), Total Productive Maintenance, the Toyota Culture, and the Toyota Way, and World Class Manufacturing.
The gamut of topics across WCM, Lean Manufacturing, the Toyota Way, and Lean Culture is vast, but the vision is the same: achieve operational excellence. Whether you have tension to manage or a problem to solve, the OEM team will pull from their expertise and collaborate to ensure success. Your processes, inventory management, financial costs, value to customer, product quality, and employee morale form the foundation that will make or break your success. No one part can be ignored, and the OEM will ensure that your area(s) of focus are set up for long-term optimization and sustained excellence.
UNDERSTAND OUR TRANSFORMATION MODEL
Based on the most successful Global Philosophies (WCM, The Toyota Way, and The Toyota Culture), OEM is an integral approach that incorporates the best of all of them. Additionally, it enables companies to be certified in one or all of them.
These three philosophies cover 4 dimensions, forming the base of our integration:
Top Management Integral Approach for Excellence

Total Lean Culture Development

Cost Reduction & Continuous Improvement Mindset, and

Lean Business Processes
For a successful implementation, we will deep-dive into your company's Values, Principles, Strategy, and Vision. Plan on both management and Union members to be included and forged into self-directed teams.
Companies around the world are struggling to improve their gross and net profit, or EBITDA . Regarding gross profit, maybe a drop in sales occurs or a strict adherence to the sales budget is necessary, yet you still want to achieve a gross profit of 15-30%. The reality is that there are expenses inherent to the system which were not understood or factored in, such as sales expenses, admin expenses, financial expenses, and depreciation, which all obtain a profit before taxes. Subtract employee profit sharing and income tax, and net income falls to 5-10%. The immediate, common reaction is to drive down the cost, preserve the margin and achieve EBITDA … but how? The same old song of firing people, eliminating fixed costs, and optimizing variable costs? Could work. But OEM would like to show you a better way.

Fernando Ibañez

CEO Termo Formados

Antonio Pérez

Former Plant Director

at Fiat Chrysler Automobiles

Francisco Ocejo

ALFRA Global Director & Founder

Gustavo Varela

ALFRA Consulting Division Director

Eduardo Varela

Former Multi-site Regional Director

for Mexico at Berry Global

Rodolfo Bojorquez

Former Karcher Mexico Materials Manager

Olivia Gallardo

KATA Organizational Excellence (KOX)

Focus on Lean Culture Owner & Founder

Javier Hernandez

Former Lean Manager and

New Product Introduction Leader at mabe

Lidia Flores

ALFRA Lean Consultant