Are you looking to develop yourself professionally?

We have training for you!
The "Training plan for successful lean professionals" program is designed to form the most successful Lean leaders of the next generation. Participants receive first-rate training with our national and International consultants with more than 30 years of experience inside and outside Toyota.
LEAN TRAINING
Lean Manufacturing Online
Toyota Way Online
Coaching Management Toyota Kata Online
Lean Office Online
Six Sigma Black Belt Online
REQUIREMENTS
To be enrolled student of any engineering from 5th semester with an grade point average equal or superior to 80.
Study all programs in a period not longer than two years.
BENEFITS
First level training with scholarships of up to 95%.
Increase the curricular value of your engineering profile.
Possibility to connect with more than 1500 companies.
WE HAVE COLLABORATED WITH THE LARGEST MANUFACTURING COMPANIES AND SERVICES AROUND THE WORLD.
Automobile and components
Electric equipment
Containers & Packaging
Aerospace
Textiles, Clothing and Luxury Goods
Food, Beverage and Tobacco
Pharmaceutical Products
Banks
Chemical Products
Construction Materials
Customer Service
Retail
THESE UNIVERSITIES TRUST US
Online Platform Visualization
The image shown below represents the Toyota Way course taught by Jefferey Liker "Best Seller of the Toyota Way".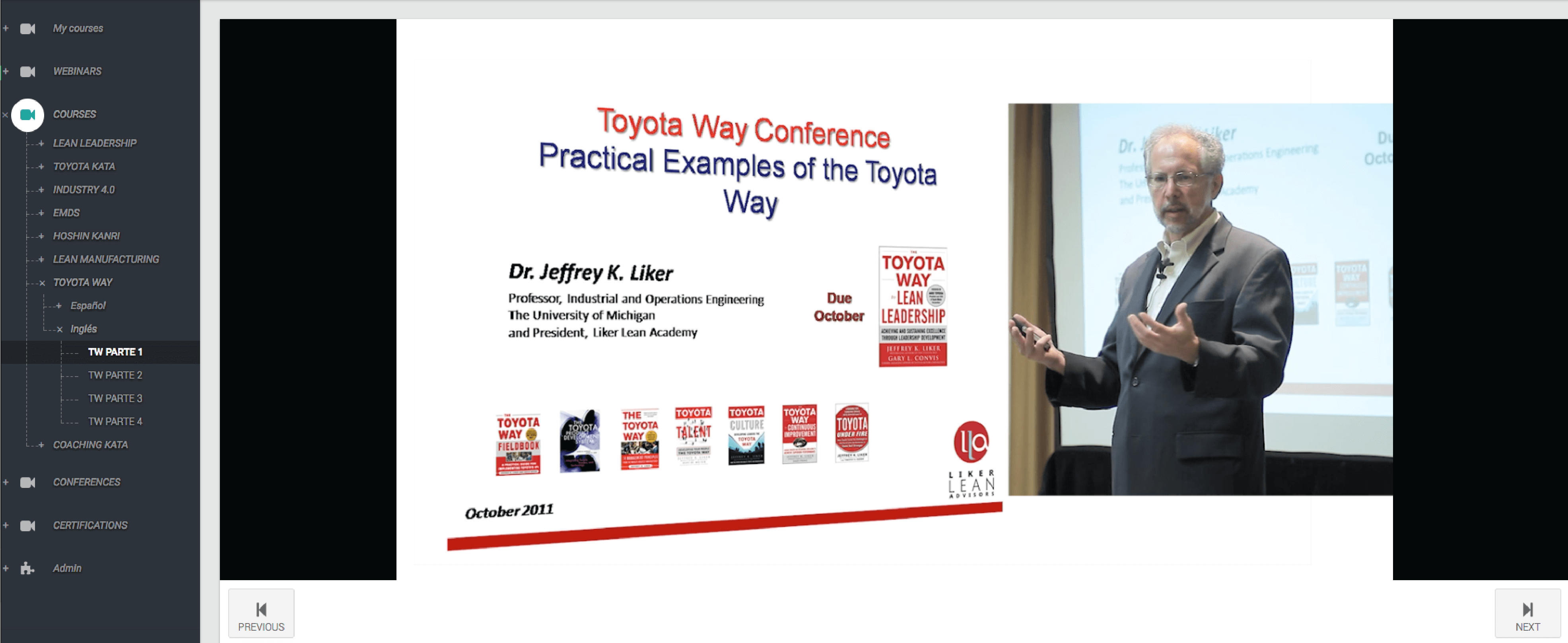 – Programs include videos, exercises, and final exam, which requires a score of 80 points or more to pass the course.
– At the end of each program, an electronic diploma signed by the instructor will be sent by email, which guarantees that yousuccessfully completed it.
– Payment can be made by program or by complete plan.
Galería de cursos anteriores
TOYOTA WAY
LEAN MANUFACTURING 
LEAN OFFICE
SIX SIGMA BLACK BELT
COACHING MANAGEMENT TOYOTA KATA
WORLDWIDE PRESENCE
INFORMATION CONTACT:
Lidia Flores Guijarro Lean Consultant for ALFRA Lean Advisors Virtual University Manager
E-mail: lidia.flores@alfraleanadvisors.com
HC Office: +52 81 8058 0738 Cel: +52 (811) 945 1894