Quick Response Quality Control
FECHA Y SEDE
26-27 Abril 2018, Monterrey N.L.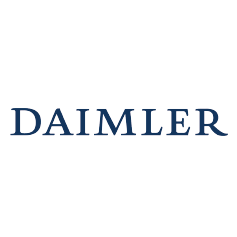 BACKGROUND
QRQC is a concept many times known as a problem solving tool. This is correct, however, QRQC is much more than that, it is a concept composed of several elements that very frequently leads to important changes in mentality in our organization.
QRQC has an impact on all areas of the company and requires leadership and participation not only by Company Directors, but also by all the organization's personnel.
QRQC will challenge its objectives, the alignment of the same in the company, the indicators used to measure those objectives, the frequency and manner of managing them, their visual administration, their forms of communication, their mechanisms of teamwork and especially their form of Solving Operational Problems from the real root cause.
QRQC is a concept that has proven to provide excellent results once it has been completely adopted by the entire organization and is part of its way of "thinking" and "observing" its daily operations.
¿WHAT IS QRQC?
Start a transformation journey by implementing a very robust Quality System. Which will be a key pillar in the sustainable growth of your organization.
QRQC stands for "Quick Response Quality Control" is a concept that aligns several Management and Troubleshooting tools. It is a concept of Continuous and Immediate Improvement not only of Quality but of any other incident or problems of the Organization (Safety, Productivity, Logistics, Engineering, etc).
QRQC is a concept that bets on the real-time resolution of problems using for them the basic principle of QRQC which is known as San-Gen-Shugi.
The principle of San-Gen-Shugi is to know the 3 realities that arise during a problem and which are:
1.- Time and Real People at the time of the problem. (Gemba)
2.- Good part, bad part and standard (Gembutsu).
3.- Real facts, facts and evidence at the time of the problem (Genjitsu).
QRQC will take us by the hand to Improve the Quality of our Products and Processes, by improving the quality of our products we can improve the Quality of our Quality Management System and improving our Quality Management systems we will be improving the Quality of our Associates. All a virtuous circle.
Benefits of a Culture change through QRQC.
3 Types of Quality Objectives: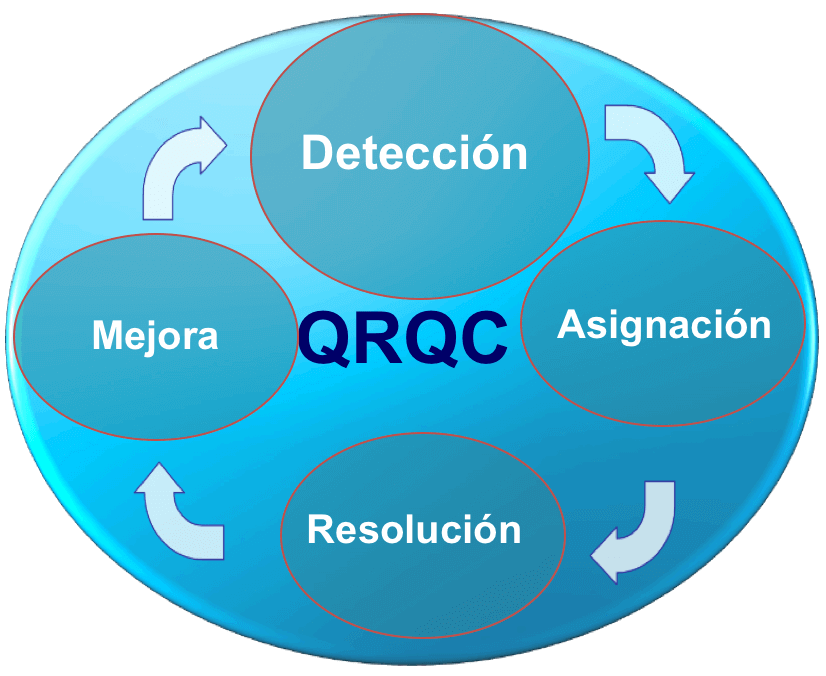 PRODUCT QUALITY
Search 50% improvement year after year through daily QRQC activities with all associates.
Lead the company to obtain the recognition of the Client.
QUALITY SYSTEMS
Unique opportunity to detect the opportunities of our systems by ourselves.
Improvement through Lessons Learned that come from the QRQC analysis of the problems.
PEOPLE OF QUALITY
Complete the assignments in 24 hours through your responsibility.
Logical thinking through the practice of the QRQC Concept.
3 Realities (San-Gen-Shugi)
REAL PLACE
The place where it happens as soon as it happens.
GOOD and BAD REAL
Compare good and bad parts with the standard.
EVIDENCE and REAL DATA
Talk with real information, do not try to guess.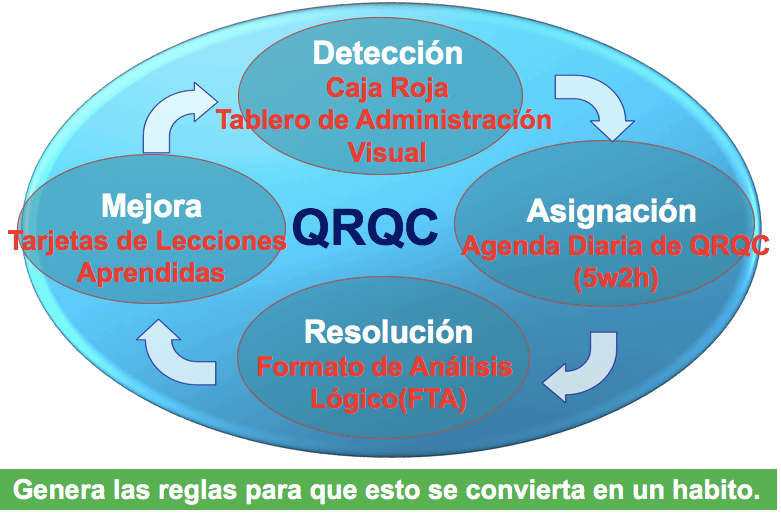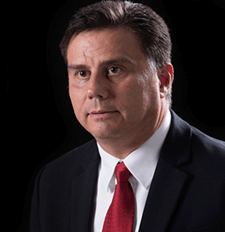 ALFONSO FELIX
SC, Especialidad Educación Cognoscitiva ITESO, D1 IPADE. Director General Bajío
Alfonso has accumulated +19 years of experience in the automotive industry serving in several functional areas and Top Management. He held several positions including Technology Information (serving Mexico, Brazil, Scotland and Japan), Materials Management (Mexico and USA), Operations and functioning as Plant Manager. Alfonso´s automotive experience includes 15 years working for American Axle and Manufacturing (AAM) and Nemak. Alfonso previously served as Technology Information Manager in a dairy company (Lechera Guadalajara) where he was part of a systems culture transformation for the whole company. Alfonso`s AAM`s plants won several Leadership and Productivity awards. Alfonso has been working with the Shingo Prize and other Organizations for the last 7 years being part of several conferences, serving as speaker, and acting as a Shingo Prize evaluator. He was part of 2010 Shingo Prize Japan study tour learning directly from several former Toyota Leaders. Alfonso´s experience includes Launching 6 brand new plants for AAM and Nemak serving in a different roles. He was part of the Lean Culture establishment for both companies new plants. He was part of the successful Production transition between USA and Mexico Plants for AAM that included 6 plants. He worked as a supplier for GM, FCA, Ford, VW, Audi, Nissan, BMW and other OEM`s. Bachelor of Computer Systems Engineering from ITESO in Guadalajara. Specialist in Education certified by ITESO. D1 Top Management Direction certified by IPADE. Japan Tour Lean Manufacturing and TPS studies with Utah University.