Quick Response Quality Control
FECHA Y SEDE
26-27 Abril 2018, Monterrey N.L.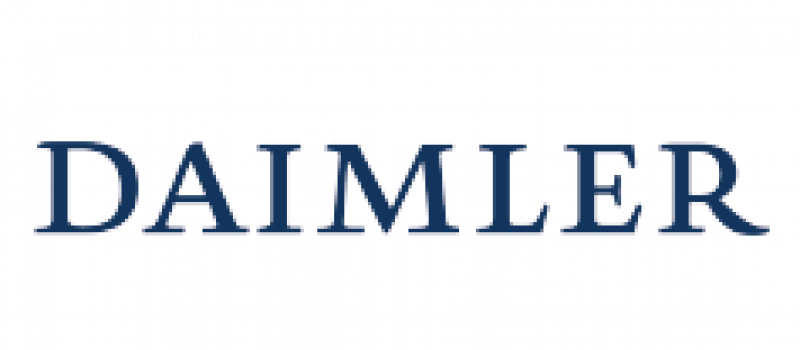 ANTECEDENTES
QRQC es un concepto muchas veces conocido como una herramienta de Resolución de Problemas. Esto es correcto, sin embargo, QRQC es mucho mas que eso, es un concepto integrado por varios elementos que de manera muy frecuente nos lleva a importantes cambios de mentalidad en nuestra organización.
QRQC impacta en todas las áreas de la compañía y requiere del liderazgo y participación no solo por parte de los Directivos de la Compañía sino de todo el personal de la organización.
QRQC retará sus objetivos, la alineación de los mismos en la compañía, los indicadores utilizados para medir esos objetivos, la frecuencia y la forma de gestionarlos, su administración visual,  sus formas de comunicación, sus mecanismos de trabajo en equipo y sobre todo su forma de Resolver Problemas Operacionales desde la verdadera causa raíz.
QRQC es un concepto que ha probado proveer resultados excelentes una vez que ha sido completamente adoptado por toda la organización y forma parte de su forma de "pensar" y "observar" sus operaciones cotidianas.
¿QUE ES QRQC?
Inicia una viaje de transformación al implementar un Sistema muy robusto de Calidad. Él cual será un pillar clave en el crecimiento sostenible de tu organización.
QRQC significa "Quick Response Quality Control" (Respuesta y Control Rápido de la Calidad)  es un concepto que alinea varias herramientas de Gestión y de Resolución de Problemas. Es un concepto de Mejora Continua e Inmediata no solo de la Calidad sino de cualquier otra incidencia o problemas de la Organización (Seguridad, Productividad, Logística, Ingeniería, etc).
QRQC es un concepto que apuesta a la resolución en tiempo real de los problemas utilizando para ellos el principio básico de QRQC el cual es conocido como San-Gen-Shugi.
El principio de San-Gen-Shugi consiste en conocer las 3 realidades que se presentan durante un problema   y las cuales son:
1.- Tiempo y Gente real al momento del problema. (Gemba).
2.- Pieza buena, pieza mala y estándar (Gembutsu).
3.- Datos, hechos y evidencias reales al momento del problema (Genjitsu).
QRQC nos llevara de la mano a Mejorar la Calidad de nuestros Productos y Procesos, al mejorar la calidad de nuestros productos podremos mejorar la Calidad de nuestro Sistema de Gestión de Calidad y mejorando nuestros sistemas de Gestión de Calidad estaremos mejorando la Calidad de nuestros Asociados.  Todo un circulo virtuoso.
Beneficios de un cambio de Cultura a través de QRQC.
3 Tipos de Objetivos de Calidad: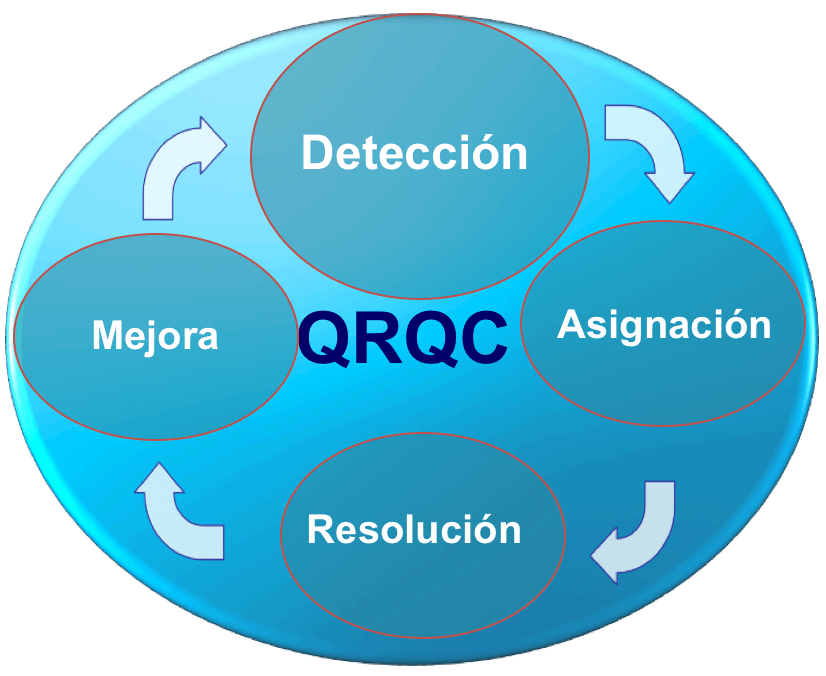 CALIDAD DEL PRODUCTO
Buscar 50% de mejora año tras año a través de actividades diarias de QRQC con todos los asociados.
Llevar a la compañía a obtener el reconocimiento del Cliente.
SISTEMAS DE CALIDAD
Oportunidad única de detectar las oportunidades de nuestro sistemas por nosotros mismos.
Mejora a través de Lecciones Aprendidas que vienen del análisis QRQC de los problemas.
GENTE DE CALIDAD
Completar las asignaciones en 24 horas a través de su responsabilidad.
Pensamiento Lógico a través de la practica del Concepto QRQC.
3 Realidades (San-Gen-Shugi)
LUGAR REAL 
El lugar donde sucede en cuanto sucede.
BUENA y MALA REAL  
Compare buena y mala partes con el estándar.
EVIDENCIA y DATOS REALES
Hable con información real, no trate de adivinar.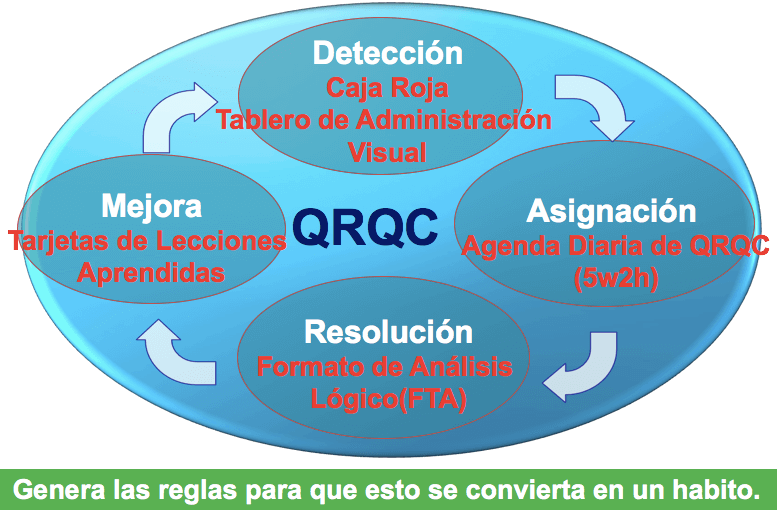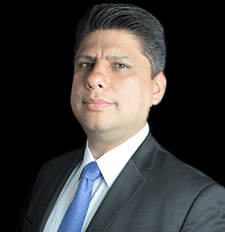 GUSTAVO VARELA
Former American Standard Continuous Improvement Director
Former Daltile Master Black Belt
22 years experience. +17 years as Global Continuous Improvement Leader
Based on his broad experience, Gustavo is expert applying a suitable approach for Continuous Improvement needed on the different organizations from a Business results optic, becoming an effective Coach for Top Management and support for The Toyota Way roles.
Gustavo has learned The Toyota Way directly from its Author, Dr. Jeff Liker, and has applied it on Gemba as a Team with many Executives from Toyota specialized on General Management, TPM, Lean Mfg Tools, and Supply Chain. Gustavo has taught the Toyota Production System at all organizational levels and has applied over 50 companies of different sizes: Lean Leadership Systems (Hoshin Kanri, FMDS, and 8-Step Problem Solving), Toyota Kata for development, Supply Chain Management, TPM, Lean Manufacturing tools (5S's, SW, SMED, Jidoka, Poka Yoke, Heijunka, JIT, etc.), and Lean Officeapproach. On Six Sigma, Gustavo as Master Black Belt has trained and certified +500 Black Belts, Green Belts, and Yellow Belts.
Gustavo has +20 years of experience on Continuous Improvement, Manufacturing, Process Engineering and Quality in large companies: Motor Wheel (Automotive), Kodak, Philips, Daltile, American Standard. He has +12 years of experience as Vice/President Staff as Continuous Improvement Director for American Standard México and Master Black Belt Champion for Daltile México. He has deployed programs that have achieved +$110 Million USD in savings with +3,000 projects on all departments: R&D, Engineering, Manufacturing, Maintenance, Quality, Logistics, Supply Chain, Sales, Marketing, Finance, HR, Energy. Over his 22 years experience, Gustavo has been exposed to many different organizations applying suitable Lean approaches on a variety of systems with diversity on leadership styles.