¡Excelentes actividades de negocio para tu esposo (a) o pareja!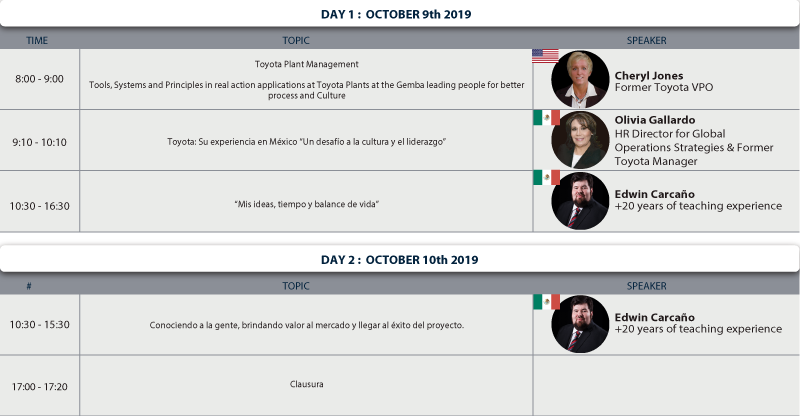 Curso Emprendedor: "Monetizando tus Ideas"
Dirigido a las esposas o esposos de los asistentes al congreso Lean, mientras corre el congreso estaremos capitalizando estas ideas para emprender proyectos de vida desde la facilidad del home office o situación geográfica.  Exclusivo a las parejas de nuestros ejecutivos participantes quienes además de aprender al mismo tiempo, también serán invitad@s especiales al curso, a la sesión de networking de bienvenida, a comer, a la Cena de Gala ya 3 conferencias.
Duración. 10 hrs.
Introducción: "Basado en el modelo de Emprendedurismo Juvenil para crear Riqueza" este taller tiene como objetivo impulsar las ideas y las oportunidades con el fin de monetizarlas. La metodología es israelí y se diseñó a finales de la década de los 80 cuando millones de judíos de la ex URSS y Europa del Este empezaron a migrar hacia Israel. La gente que migraba a Israel tenia un excelente nivel de estudios, pero no sabían ser emprendedores.
La innovación es el proceso a través del cual las ideas se materializan. Una persona con grandes ideas necesita aterrizarlas para convertirlas en valor agregado a sus clientes. En estas 10 horas los participantes van a generar ideas fáciles de materializarse para poder generar un ingreso extra de una manera sencilla y accesible.
Programa:
Día 1 Mis ideas, tiempo y balance de vida
Como tomar decisiones correctas y evitar que las ideas salan mal.

Veo que a mi i vecino le va muy bien, como logro que  mi proyecto  despegue.

Cuidando el dinero vivo mejor que gastándolo en cosas que no sirven.

Si mis empleados me roban y siempre me quedo con la peor parte, como revertir el proceso.

Cómo hago que mi negocio no me deje sin tiempo para disfrutar la vida.
Día 2 Conociendo a la gente, brindando valor al mercado y llegar al éxito del proyecto.
La gente es rara y a veces siento que no entiendo a nadie: como comprender perfiles de las personas.

Hoy me siento ganador, como mantenerme en la cima.

El mercado es para ti,  hay que conocerlo y seccionarlo.

Vendiendo más que nadie y sin competencia.

El éxito ahora debe de ser una actitud permanente.
Edwin Carcaño

+ 20 YEARS TEACHING EXPERIENCE
· Former CIAPP OPERATIONS Director. ·
+ 20 YEARS TEACHING EXPERIENCE Education
· B.S. Business Administration at Tecnologico de Monterrey.
· MBA thunderbird.
Edwin Carcaño Guerra is Professor of International Marketing, Economic Policy and Sustainable Growth. He has a degree in Business Administration from ITESM Campus Monterrey and has a Master of Business Administration from Thunderbird, currently considered the best school in the world in International Business. He is also a graduate of the Mount Carmel Training Center, in Haifa, Israel, where he attended "Entrepreneurship for Youth: A Tool for Poverty Alleviation" (Youth Entrepreneurship for the Eradication of Poverty). He has studied in France, Switzerland, Panama, Guatemala, China and the United States. He has lectured at Colegio de Negocios Internacionales, Instituto Universitario Tecnológico de los Trabajadores, Universidad Modelo, Universidad Autónoma de Yucatán, Universidad Juárez Autónoma de Tabasco, Universidad Regiomontana, Universidad Autónoma de Guadalajara, Tecnológico de Monterrey, Universidad de Monterrey, Universidad Autónoma de Nuevo León, Greensboro at North Carolina, Elon University, Centrall College, Michigan State University, Mount Carmel Training Center y La Universidad Interamericana del Norte and others. Carcaño has written four books: Cuentos de Ajedrez (2009) Lecturas Selectas de Negocios Internacionales (2010), "La Cadena de León" (2011), which forms the first book in a series titled "Leyendas de Bronce: Una Aventura Mexicana" y "Genbranding: Una visión de México y su mercado" (2014). He is currently making periodic publications on strategies for investment portfolios and on the history of the Spanish Empire in the times that followed the death of King Philip IV of Habsburg.