¿Buscas desarrollarte profesionalmente?

¡Nosotros tenemos capacitaciones para ti!
El programa "Plan de Formación de Profesionistas Lean Exitosos" está diseñado para formar los líderes Lean más exitos de la siguiente generación. Los participantes reciben entrenamiento de primer nivel con nuestros consultores nacionales e internaciones con más de 30 años de experiencia dentro y fuera de Toyota.
FORMACIÓN LEAN
Lean Manufacturing Online
Toyota Way Online
Coaching Gerencial Toyota Kata Online
Lean Office Online
Six Sigma Black Belt Online
REQUISITOS
Ser alumno inscrito de cualquier ingeniería a partir de 5to semestre con promedio igual o superior a 80.
Cursar todos los programas en un periodo no mayor a 2 años.
BENEFICIOS
Entrenamientos de primer nivel con becas de hasta el 95%.
Aumentar el valor curricular de tu perfil ingenieril.
Posibilidad de conectar con más de 1500 empresas.
CLIENTES DE DIFERENTES INDUSTRIAS:
Automóviles y componentes
Equipo eléctrico
Contenedores y envases
Aeroespacial
Textiles, Ropa y Artículos de Lujo
Alimentos, Bebidas y Tabaco
Productos farmacéuticos
Bancos
Productos químicos
Materiales de construcción
Servicio al consumidor
Venta al por menor
ESTAS UNIVERSIDADES CONFIAN EN NOSOTROS
Visualización de Plataforma Online
La  imagen que se muestra a continuación representa el curso de Toyota Way impartida por Jefferey Liker "Best Seller of the Toyota Way".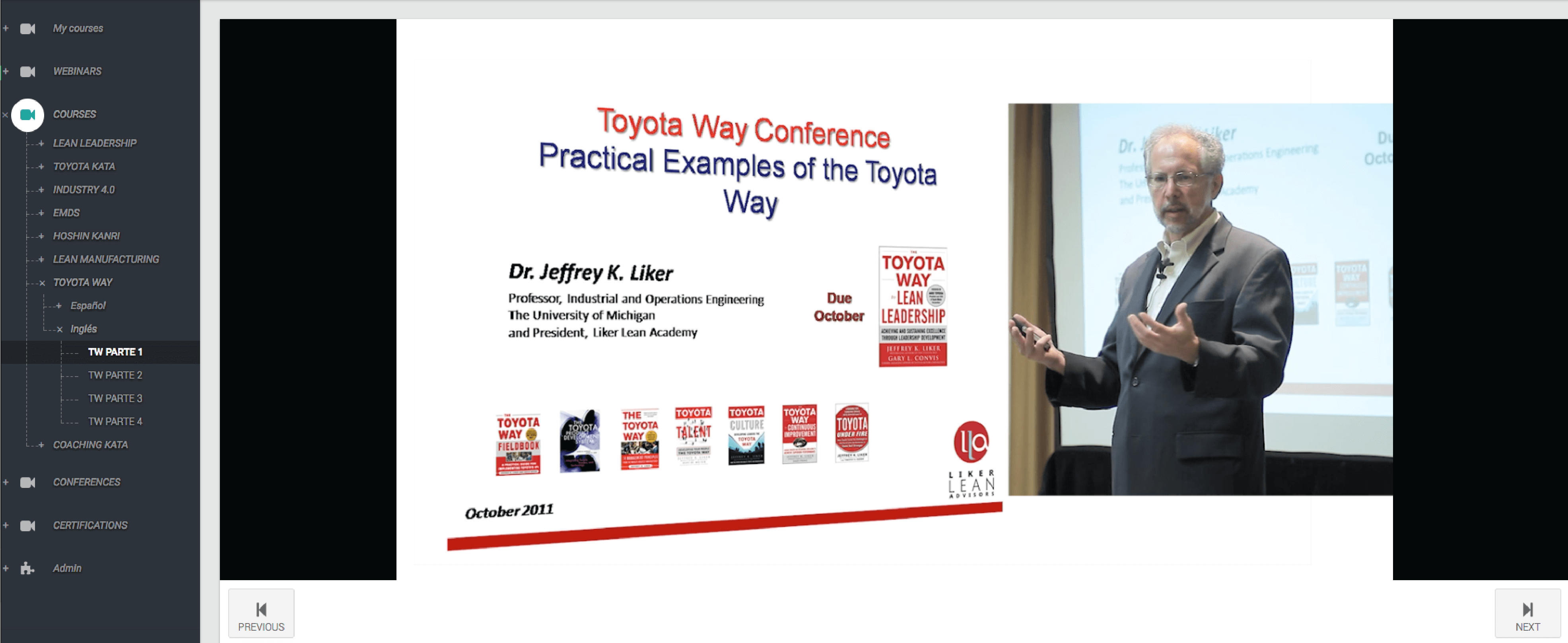 – Los programas incluyen videos, ejercicios, y examen final, el cual es necesario obtener un puntaje igual o mayor a 80 puntos para aprobar el curso.
– Al final de cada programa, se entregará un diploma electrónico firmado por el instructor que avala que has cursado con éxito el mismo.
– El pago puede ser realizado por programa o por plan completo.
Galería de cursos anteriores
TOYOTA WAY
LEAN MANUFACTURING 
LEAN OFFICE
SIX SIGMA BLACK BELT
COACHING GERENCIAL TOYOTA KATA
WORLDWIDE PRESENCE
CONTACTO DE INFORMACIÓN:
Lidia Flores Guijarro Lean Consultant for ALFRA Lean Advisors Virtual University Manager
E-mail: lidia.flores@alfraleanadvisors.com
HC Office: +52 81 8058 0738 Cel: +52 (811) 945 1894