Solución de Problemas

Todos quisieran evitar problemas; más son el Núcleo, la clave para el éxito en una Organización Lean. Al afrontarlos de una forma sistemática y exitosa, cada Departamento y la Empresa en general estarán siempre sobresaliendo en Seguridad, Calidad, Entrega, Productividad, Costo y Desarrollo Humano.
Lo anterior se verá reflejado en Estabilidad para el Largo Plazo, Desarrollo del Personal y Crecimiento del Negocio: sello palpable en Toyota
En éste curso lograrás:
Desarrollar un pensamiento crítico que ayude al individuo a resolver verdaderamente los problemas
desde la raíz para restablecer sistemas de Calidad, Mantenimiento, Cadena de Suministro, Seguridad,
Recurso Humano, Producción y muchos otros aspectos que tiene una causa desconocida.
Overview:
En el curso se revisará cómo una Organización Lean establece su Cultura para resolver problemas a todos
los niveles, brindando a los participantes la oportunidad de practicar el Método de 8 pasos analizando problemas reales en equipo con un a través de todo el proceso.
EMPRESA
LOGOTIPO
PROGRAMA

San Mina- GDL

 Lean Office

 Hammond Power Solutions

 Problem Solving

 Rockwell (Canada y Monterrey)

 TPS Gemba Training

Nemak

 EMDS

CEMEX

TPM Mtto. Total Productivo de Toyota

Kimball Electrónics

TPS Gemba Training

Frisa Forjados

Lean Office

SKF

Planeación y Control de la Producción

TPS Gemba Training

 Sogefi Group

 TPM Mtto. Total Productivo de Toyota

 Silgan- San Luis

Planeación y Control de la Producción

TPM Mtto. Total Productivo de Toyota

TPS Gemba Training

Avanzar Interior Technologies

Toyota Kata in Field

Daimler Mercedes Benz

TPS Gemba Training

Toyota Kata in Field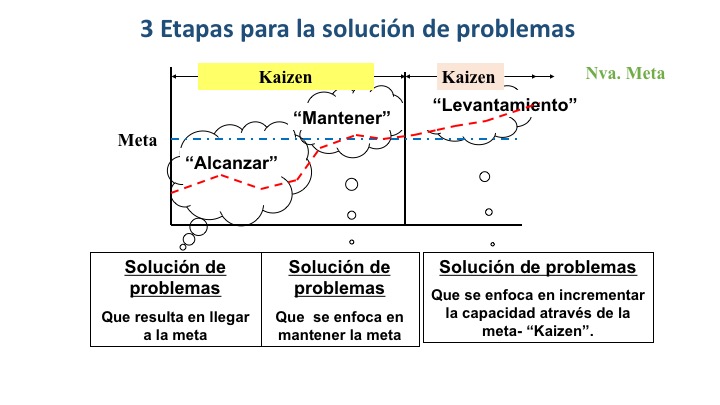 Hacer que su organización sea capaz de identificar y responder a los problemas "conforme ocurren".

Entender como es que un sistema de solución de problemas es un proceso dinámico que continuamente se mejora a sí mismo y a la gente involucrada en él y como implementarlo en su organización.

Evaluar el estado actual de su organización en establecer, implementar y sostener la solución de problemas diaria.

Aprender el rol que todos los niveles desempeñan en el proceso de solución de problemas.

Aprender los 8 Pasos de la Metodología de Solución de Problemas a través de Teoría y de aplicación en un Problema Real de la Organización

Uso adecuado del Formato A3 que resume los 8 Pasos de la Metodología y sus usos en el proceso de management.
Directores, Gerentes y Mandos Medios de todas las áreas de la organización.
El Programa se divide en 3 partes:
Pre-Trabajo. Previo a los 2 días de sesión, en conjunto con el contacto de la




organización, se seleccionarán los Problemas reales a atacar durante el curso y se




formarán los equipos correspondientes.

El día de la sesión se inicia cubriendo los conceptos generales de Lean y se




presenta el método de 8 Pasos para la Solución de Problemas reforzándolos con




casos de estudio.

La segunda parte consta de actividad en equipo, aplicando los 8 Pasos en los




Problemas previamente seleccionados, con el Coaching del instructor.
Día 1
Día 2

INTRODUCCIÓN

Historia y Antecedentes

¿Qué es un Problema?

Realmente es negativo tener Problemas?

El Sistema de Solución de Problemas en el

modelo The Toyota Way

Aplicación del Método en distintos niveles

organizacionales.

8 PASOS PARA LA SOLUCIÓN DE PROBLEMAS

Cómo identificar un Problema

Dividir el Problema en sus partes

Requisitos para las Metas

Determinación y Comprobación de las Causas Raíz

Generación de Contramedidas y priorización

Factores a tomar en cuenta en la Ejecución de las




Contramedidas

Monitorear el resultado y el proceso

Yokoten: Estandarizar y Compartir el Éxito

RESOLUCIÓN EN EQUIPO DE UN CASO DE ESTUDIO

APLICACIÓN DE LOS 8 PASOS EN LA SOLUCIÓN DE
PROBLEMAS REALES EN LA ORGANIZACIÓN

Resolución en equipo de Problemas Reales de la Organización, aplicando los 8 Pasos en el lugar de trabajo, con el soporte –Coaching- del instructor.

APRENDER LOS FORMATOS BÁSICOS DE A3 Y SUS USOS EN EL PROGRAMA MANAGEMENT 

Escribir un A3 (Autor / Dueño)

Leer un A3s (Vocero)

Coaching a otros respecto a su propio A3s (Coach).

PRACTICA DE 8 PASOS PARA LA SOLUCIÓN DE




PROBLEMAS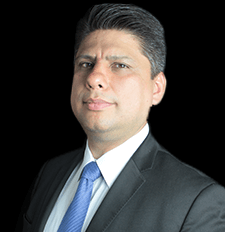 GUSTAVO VARELA
Former American Standard Continuous Improvement Director
Former Daltile Master Black Belt
22 years experience. +17 years as Global Continuous Improvement Leader
Based on his broad experience, Gustavo is expert applying a suitable approach for Continuous Improvement needed on the different organizations from a Business results optic, becoming an effective Coach for Top Management and support for The Toyota Way roles.
Gustavo has learned The Toyota Way directly from its Author, Dr. Jeff Liker, and has applied it on Gemba as a Team with many Executives from Toyota specialized on General Management, TPM, Lean Mfg Tools, and Supply Chain. Gustavo has taught the Toyota Production System at all organizational levels and has applied over 50 companies of different sizes: Lean Leadership Systems (Hoshin Kanri, FMDS, and 8-Step Problem Solving), Toyota Kata for development, Supply Chain Management, TPM, Lean Manufacturing tools (5S's, SW, SMED, Jidoka, Poka Yoke, Heijunka, JIT, etc.), and Lean Office approach. On Six Sigma, Gustavo as Master Black Belt has trained and certified +500 Black Belts, Green Belts, and Yellow Belts.
Gustavo has +20 years of experience on Continuous Improvement, Manufacturing, Process Engineering and Quality in large companies: Motor Wheel (Automotive), Kodak, Philips, Daltile, American Standard. He has +12 years of experience as Vice/President Staff as Continuous Improvement Director for American Standard México and Master Black Belt Champion for Daltile México. He has deployed programs that have achieved +$110 Million USD in savings with +3,000 projects on all departments: R&D, Engineering, Manufacturing, Maintenance, Quality, Logistics, Supply Chain, Sales, Marketing, Finance, HR, Energy. Over his 22 years experience, Gustavo has been exposed to many different organizations applying suitable Lean approaches on a variety of systems with diversity on leadership styles.
Master Degree Professor at Tec Milenio and Professor at ICAMI Business School. Lean Manufacturing and Six Sigma lecture in México on various Universities and Forums.