FECHA Y SEDE
PRÓXIMAS FECHAS: Por definir
Al concluir éste curso lograrás:
Desarrollar un pensamiento crítico que ayude al individuo a resolver verdaderamente los problemas desde la raíz para restablecer sistemas de Calidad, Mantenimiento, Cadena de Suministro, Seguridad, Recurso Humano, Producción y muchos otros aspectos que tiene una causa desconocida.
1. Trabajar en equipo en la solución de problemas en "tiempo real" en el piso de producción con problemas reales identificados por la organización.
2. Aprender haciendo con las Herramientas de Toyota: "Go and See", "Separando un Problema", y "Análisis de Causa Raíz 5-Porqués".
3.Guía y coaching por el Instructor a través del proceso de solución de problemas.
4.Aprender como completar, presentar y dar retroalimentación en el reporte de Solución de Problemas A-3.
Directores, Gerentes y Mandos Medios de todas las áreas de la organización.
DÍA 1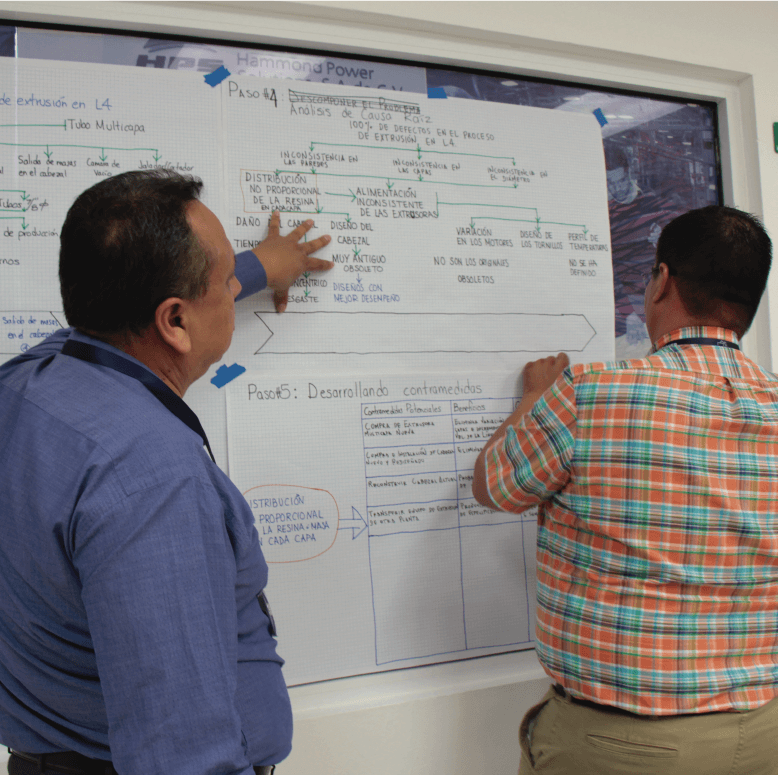 Introducción
Historia y Antecedentes
¿Qué es un Problema

¿Realmente es negativo tener Problemas?

El Sistema de Solución de Problemas en el modelo The Toyota Way

Aplicación del Método en distintos niveles organizacionales.
8 PASOS PARA LA SOLUCIÓN DE PROBLEMAS
Cómo identificar un Problema

Dividir el Problema en sus partes
8 PASOS PARA LA SOLUCIÓN DE PROBLEMAS (CONT.)
Requisitos para las Metas

Determinación y Comprobación de las Causas Raíz

Generación de Contramedidas y priorización

Factores a tomar en cuenta en la Ejecución de las Contramedidas

Monitorear el resultado y el proceso

Yokoten: Estandarizar y Compartir el Éxito
DÍA 2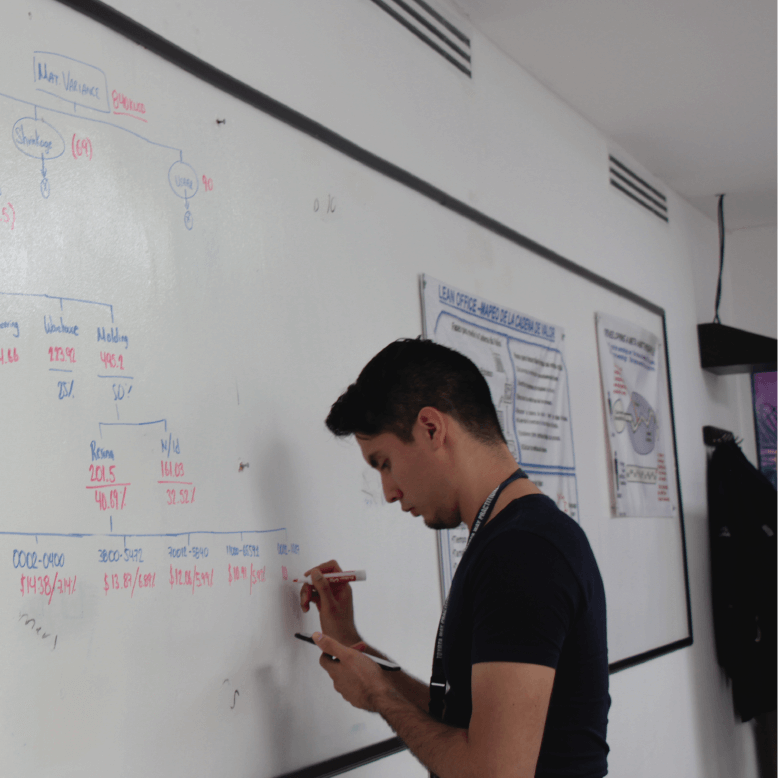 PRACTICA DE 8 PASOS PARA LA SOLUCIÓN DE PROBLEMAS
Resolución en equipo de Caso de Estudio
APRENDER LOS FORMATOS BÁSICOS DE A3 Y SUS USOS EN EL PROGRAMA MANAGEMENT
Escribir un A3 (Autor / Dueño)

Leer un A3s (Vocero)

Coaching a otros respect a su propio A3s (Coach).
APLICACIÓN DE LOS 8 PASOS EN LA SOLUCIÓN DE PROBLEMAS REALES EN LA ORGANIZACIÓN
Resolución en equipo de Problemas Reales de la Organización, aplicando los 8 Pasos en el lugar de trabajo, con el soporte

Coaching- del instructor.
GUSTAVO VARELA
IMA, MBA, MBB. Director División de Consultoría
Based on his broad experience, Gustavo is expert applying a suitable approach for Continuous Improvement needed on the different organizations from a Business results optic, becoming an effective Coach for Top Management and support for The Toyota Way roles. Gustavo has learned The Toyota Way directly from its Author, Dr. Jeff Liker, and has applied it on Gemba as a Team with many Executives from Toyota specialized on General Management, TPM, Lean Mfg Tools, and Supply Chain. Gustavo has taught the Toyota Production System at all organizational levels and has applied over 50 companies of different sizes: Lean Leadership Systems (Hoshin Kanri, FMDS, and 8-Step Problem Solving), Toyota Kata for development, Supply Chain Management, TPM, Lean Manufacturing tools (5S's, SW, SMED, Jidoka, Poka Yoke, Heijunka, JIT, etc.), and Lean Office approach. On Six Sigma, Gustavo as Master Black Belt has trained and certified +500 Black Belts, Green Belts, and Yellow Belts. Gustavo has +20 years of experience on Continuous Improvement, Manufacturing, Process Engineering and Quality in large companies: Motor Wheel (Automotive), Kodak, Philips, Daltile, American Standard. He has +12 years of experience as Vice/President Staff as Continuous Improvement Director for American Standard México and Master Black Belt Champion for Daltile México. He has deployed programs that have achieved +$110 Million USD in savings with +3,000 projects on all departments: R&D, Engineering, Manufacturing, Maintenance, Quality, Logistics, Supply Chain, Sales, Marketing, Finance, HR, Energy. Over his 22 years experience, Gustavo has been exposed to many different organizations applying suitable Lean approaches on a variety of systems with diversity on leadership styles.
SERVICIOS INCLUIDOS
Diploma de Entrenamiento.

Manual y material didáctico para los participantes.

Formatos y plantillas de implementación para los sistemas y herramientas Lean.

Coffee Break de Calidad

Comida Incluida

Manual a Color

Certificado de entrenamiento

Espacios Cómodos

Staff de soporte en los cursos
Para que podamos saber más sobre sus necesidades