Seminario
El Internet de las cosas industrial (también conocido como Industry 4.0) es la combinación de varias tecnologías digitales y de conectividad nuevas, como sensores de bajo costo / alto rendimiento, transmisores, almacenamiento de datos en la nube y computación ("Big Data"), análisis, modelado y simulación, realidad aumentada y fabricación aditiva (impresión 3D). También se puede considerar la siguiente etapa en la automatización industrial. En lugar de máquinas automáticas aisladas, tenemos una planta completa (o varias plantas) conectadas y funcionando como un sistema.
Las empresas han invertido mucho (o están a punto de comenzar) en nuevas tecnologías, pero sorprendentemente muchas no pueden extraer resultados óptimos de su inversión. No es descabellado decir que Industry 4.0 es algo que va a suceder "espontáneamente" o de manera planificada, a medida que las operaciones mejoren sus instalaciones y equipos. Pero la tecnología sin inteligencia no produce los rendimientos esperados. La filosofía lean probada durante mucho tiempo sigue siendo el estándar de oro para pensar en la calidad y la eficiencia industrial y sigue siendo válida en la era de la Industria 4.0. Puede ser aún más relevante en estos tiempos de duda e incertidumbre, informando y guiando el proceso de transición.
Por inteligencia, se entiende no solo una filosofía para guiar la estrategia y las acciones, sino también herramientas analíticas para implementarlas. Entra en el aprendizaje automático, que en esencia es un conjunto de herramientas estadísticas capaces de aprovechar los desarrollos recientes en potencia de procesamiento informático y mejores algoritmos.
El éxito para la estrategia de Industry 4.0 en 3 pilares:

Tecnología + Filosofía + Inteligencia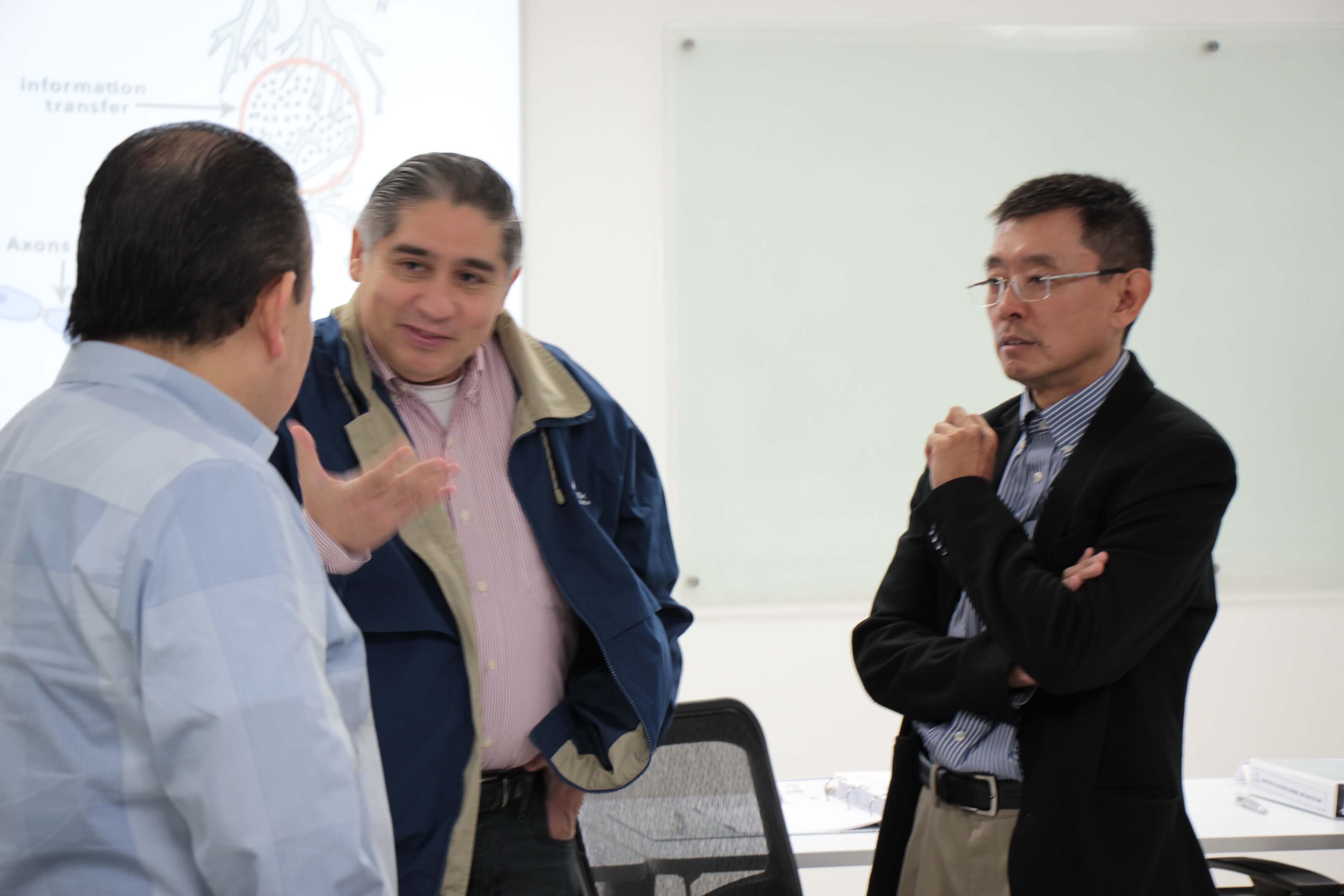 ⁃ Comprender cuál es el fenómeno llamado "Industria 4.0";
⁃ Comprender cuáles son las tecnologías centrales que están dando forma al nuevo paradigma industrial;
⁃ Ser capaz de discernir lo que es real (permanente) y lo que es "bombo" fugaz e ilusorio;
⁃ Entender que cada industria y cada compañía es diferente y poder identificar qué necesita cambiar (¡y no cambiar!);
⁃ Poder diseñar un plan estratégico para la Industria 4.0;
⁃ Para poder dibujar un mapa de carreteras;
⁃ Entender qué recursos se necesitan;
⁃ Comprender los errores a evitar;
⁃ Hacer que el proceso sea relevante y continuo, contribuyendo al crecimiento y la prosperidad a largo plazo.
Directores de planta, líderes, gerentes (superior e intermedio), ingenieros involucrados en operaciones, personal de innovación.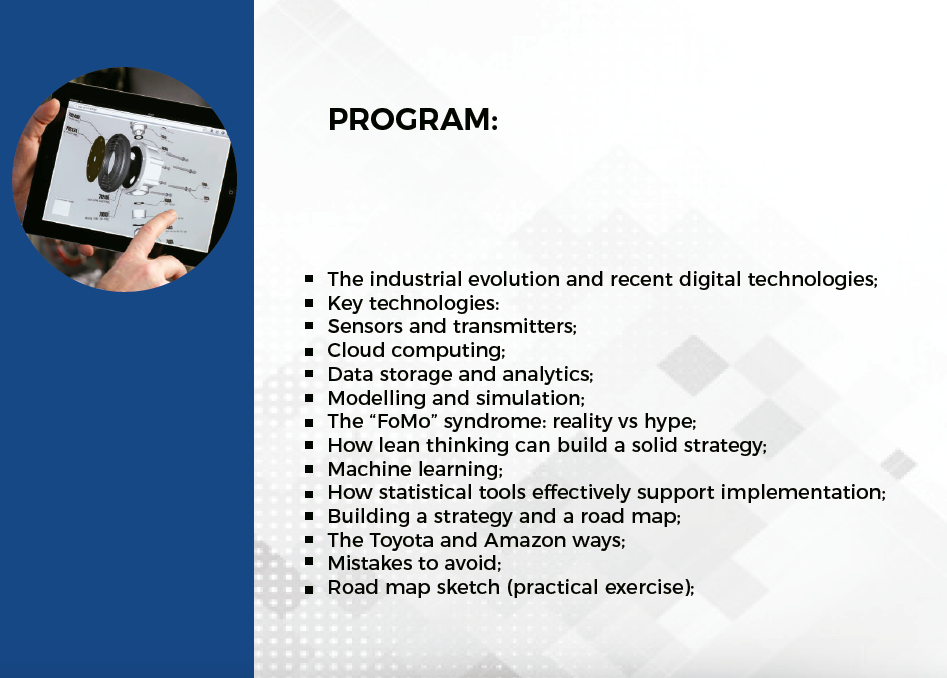 ¿DESEAS VER EL PROGRAMA COMPLETO?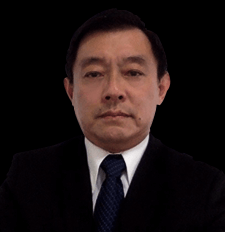 CHARLES LINCOLN KENJI YAMAMURA
· Master on Business Administration · Master of Science in Business +20 years of experience in Marketing, Product Planning and Development, Strategy, Market Intelligence and Analytics in the global automobile industry: Toyota, Nissan, Yamaha, Volkswagen, Fiat Chrysler, with market knowledge of Brazil, USA, Japan, China, Germany, France, Italy, India, UK, Argentina, and Mexico.
Product strategy and development executive at Nissan Motor Co. (Japan), Toyota, Yamaha, Volkswagen, Fiat Chrysler, JAC Motors.
Market knowledge of Brazil, USA, Japan, China, Germany, France, Italy, India, UK, Argentina, and Mexico.
MBA from Yale University; MSc. from FGV Sao Paulo Business School; LL.B from the University of São Paulo.
Currently investigating the application of Industry 4.0, Machine Learning, Deep Learning, and Artificial Intelligence on Lean Product Development.
Responsible for developing and launching new products at Fiat Chrysler (Palio, Uno, Punto, 500), Volkswagen (Golf, Passat, Jetta, Touareg, Amarok, New Beetle), Yamaha, Toyota, JAC Motors, Jaguar and Citroën.

Latin America representative at Fiat Chrysler's Global Product Summit, presenting new business cases and negotiating regional strategic partnerships.

 Designed, developed and managed the technical activities – Planning, Engineering, Quality, Homologation, Servicing – for the JAC Motors business operations and product line-up in Brazil.

At Nissan Motor Co. (Japan), was responsible for Nissan and Infiniti cross car line strategy, in charge of connectivity, infotainment, climate control, instruments and controls, ergonomics, and perceived quality.

At Volkswagen, planned and developed the Brazilian built Golf model (gen IV), targeting the markets of Brazil, Argentina, USA, Canada, and Mexico.

At Toyota, planned and developed the Corolla, Hilux, and Camry models.

 MBA from Yale University and Master of Science degree from Fundação Getúlio Vargas in São Paulo, with a thesis on the "Kansei (Emotional) Engineering in the Japanese Automobile Industry".

Research on the application of Industry 4.0, Artificial Intelligence, and Machine Learning on Lean Product Development.