Celestica ofrece soluciones flexibles e innovadoras a nuestros clientes a través de nuestros Centros de Excelencia. Aprovechando nuestra red de proveedores preferidos, le ayudamos a llevar sus productos de alta complejidad al mercado de forma rápida, confiable y con un alto nivel de calidad.
La operación Monterrey de Celestica proporciona el montaje de circuitos impresos, ensamblaje de sistemas, construcción de cajas, ingeniería de valor agregado, gestión de cadena de suministro, prueba, cumplimiento directo y reparación, apoyado por sólidos laboratorios de materiales y equipos de desarrollo de pruebas. El sitio sirve a los clientes en los segmentos de comunicaciones y del mercado empresarial.
Descripción del taller
La mayoría de las compañías que se embarcan en un viaje delgado pronto se frustran con eventos de mejora y proyectos aislados que producen grandes resultados a corto plazo pero que no tienen sostenibilidad ni innovación importante. Están buscando algo más: la cultura que va más allá de la "gestión justa" de la mejora continua. El éxito en el mundo actual de constante cambio y desafío requiere el compromiso de todos los miembros de su organización en la mejora continua y la resolución de problemas. El Sistema de Gestión Diaria proporciona la estructura y el marco para permitir que esto suceda de forma sostenida.
FCA México inició operaciones en 1938, actualmente su Edificio Corporativo y Centro de Ingeniería Automotriz se ubican en Santa Fe, al poniente de la Ciudad de México. Cuenta con una Red de 245 Distribuidores de las siguientes marcas: Alfa Romeo, Chrysler, Dodge, Fiat, Jeep, Mitsubishi y Ram. FCA México da empleo directo a más de 16,000 personas en tres zonas del país. Ciudad de México 1,414 Estado de México 6,152 Coahuila 8,728 En la Planta de Camiones ubicada en Coahuila, se ensambla Ram 1500, Ram2500/3500, Ram Mega Cab, Ram 3500 Chassis Cab, Ram 4500/5500, y Ram 4000, además de paneles de carrocería.
En octubre de 2013 se anunció una inversión por $1,085 MDD para la nueva planta de Ensamble Saltillo Van donde actualmente se produce Ram ProMaster. También en Coahuila, FCA México cuenta con dos plantas de motores: la Planta Motores Norte, localizada en Ramos Arizpe, manufactura los motores V-8 HEMI® de 5.7L, V-8 HEMI® Hellcat de 6.2L, V-8 HEMI® de 6.4L, Tigershark de 2.4L, (para el ensamble de los motores Tigershark se hizo un anuncio de inversión de $164 MDD) y en la Planta Motores Sur, localizada en Derramadero, se fabrica el motor V-6 Pentastar de 3.6L. El número de vehículos exportados por FCA México a diciembre de 2017 fue de 599,490 unidades, mientras que la venta de vehículos a diciembre de 2017 fue de 100,846unidades.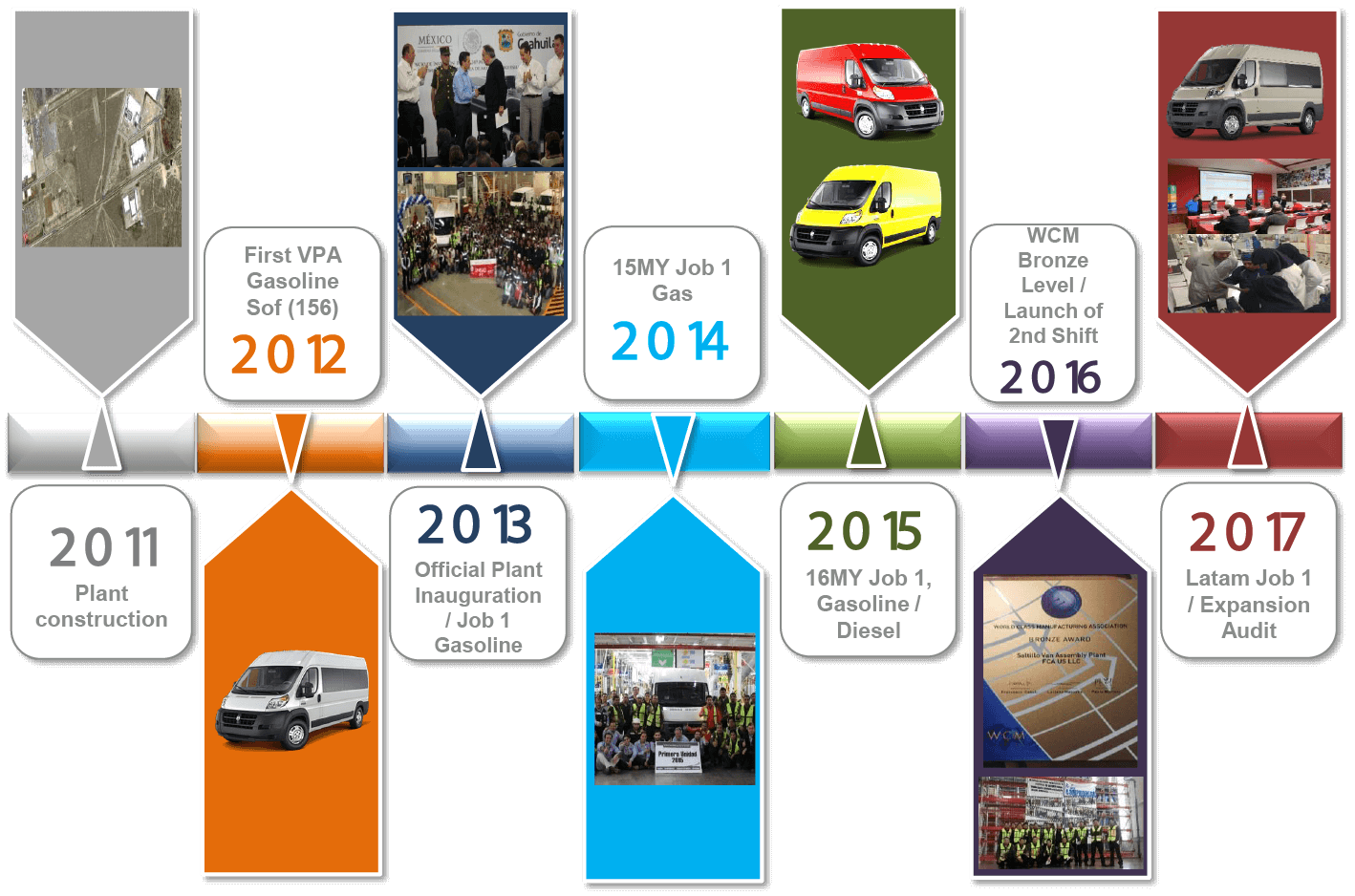 Más allá de "Lean Tools" para alinear toda la organización.

Creación, implementación y medición de métricas y objetivos clave de rendimiento en las áreas de Seguridad, Calidad, Entrega y Costo (SQDC), así como el trabajo estándar que evalúa cada uno junto con las estrategias de auditoría.

Conecte las operaciones y todas las funciones en toda la organización.

Identificar y Mejorar el Entrenador (pequeños pasos) y la Innovación (grandes saltos) centrado en el Valor para el Cliente.

Lo que P-D-C-A parece en cada nivel de gestión y qué procesos son necesarios para apoyarla.

Establezca el "marco" para: Sistema Lean de Liderazgo, Sistema de gestión Lean, Sistema de Desarrollo Lean y Sistema de Trabajo Lean

 
Alta Dirección: CEO,COO,CFO, VPO, Dirección General.

Gerente de Planta.

General Managers.

Gerencias.
GALERÍA DE CURSOS ANTERIORES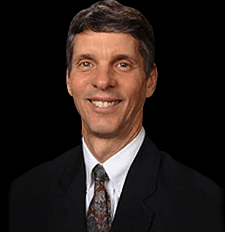 MICHAEL HOSEUS
ALFRA Toyota Team Director Former Executive Plant Manager of Toyota Kentucky
Best Seller of the Toyota Culture

Associate Executive Advisor for ALFRA Lean Advisors

Former Toyota Assistant General Manager

Former Assistant General Manager and Human Resources

Executive Director CQPO
Mike is Executive Director for the Center for Quality People & Organizations (CQPO). Mike Hoseus brings both manufacturing operations and specialization in Human Resource experience to CQPO. CQPO is an organization developed in 1999 as a vision of Toyota Motor Manufacturing to share Lean Quality philosophy and human resource practices with education, business, and community organizations. CQPO current projects with Toyota include New Hire selection and training process, Team Leader and Group Leader post promotion training, Quality Circle Leader and Manager training, and Global Problem Solving for all levels. Mike is an adjunct professor with the University of Kentucky's Lean Manufacturing Program. Mike is co author with Dr. Jeffery Liker (Author of the Toyota Way) of Toyota Culture. Mike is an adjunct professor with the University of Kentucky's Center for Manufacturing and a member of the faculty of Lean Enterprise Institute. Mike is also president of Lean Culture Enterprises. Prior to CQPO, Mike was a corporate leader for 13 years at Toyota Motor Manufacturing's Georgetown, Kentucky, plant both in Human Resources and Manufacturing. As Assistant General Manager in Human Resources, his responsibilities included personnel, safety, HR development, employee relations, benefits, training, and manufacturing/human resource teams for a plant of 8000 team members. His major initiative was development of the enhanced relationship between Human Resource and Manufacturing Mike's operational responsibilities in manufacturing started in 1987 as a front line supervisor in vehicle assembly. This included all aspects of safety, quality, productivity, cost and morale for operations. With experience as Assembly Plant Manager and eventually Assistant General Manager, his responsibilities increased to include both assembly plants including operations, maintenance, and engineering. He is a Certified Trainer in Global Problem Solving & Waste Reduction, Standardized Work and Kaizen Events.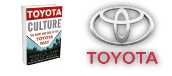 SERVICIOS INCLUIDOS
Manual a Color.

Coffee Break y comida.

Certificado de curso

Servicio de Traducción Simultánea (costo extra).

Exclusivo 25 participantes.
Para que podamos saber más sobre sus necesidades