TOYOTA KATA COACH DEVELOPMENT
Be one of the first Coaches in Mexico experts in the Toyota Kata and become a Toyota Kata authority It implements projects that in sum provide at least 500k dollars in savings against EBITDA in 1 year.
The success of Toyota and more successful companies has been its ability to adapt, improve and innovate its operations through a Leadership and Coaching focused on the process.
ABOUT TOYOTA KATA:
The toyota kata is a program in which we train coaches. The program helps to improve the internal and external quality of the clients, the quality of the operations and the speed of the service, improving the skills of the human resources to obtain an impact on the main indicators of the organization such as sales, costs and growth Based on Mike Rother's book, the toyota kata is translated into more than 20 languages ​​and is currently being carried out by large organizations. More than 200 companies have assisted in these programs and have managed to move their organization from point A to point B in terms of results, eliminating defects to zero, reducing the number of people, that is, increasing the number of pieces per person, improving the service but always finding a scientific thought in a different way of operation that they did not know and this leads to experimentation processes, reflection processes, a way in which the coach is always looking for questions, an apprentice is always looking for answers and with this to go forward in the continuous improvement day by day improving the system of lean leadership, forming a culture of continuous improvement based on the thought of Toyota production system. Mike Rother found out why the companies had struggled to copy Toyota's tools and it was where they learned that was the DNA of each toyota leader was the way of thinking. The Toyota kata helps you to systematize the way of thinking of a leader inside Toyota which allows you to create your own tools where we have applied the Toyota Kata we have seen that there are thousands of tools that are not necessarily lean tools, if not, things that one sees in their own operations, tools, speeds, advances, cuts … we create solutions to move forward in different implementations.
| | | |
| --- | --- | --- |
| | | |
| Be one of the first Coaches in Mexico experts in the Toyota Kata and be certified by the Author of the 2009 Toyota Mike Rother. | Implement the TK in your company and develop another 8 apprentices and 4 coaches in your training. (Become a coach) | It implements projects that in sum provide at least 500k dollars in savings against EBITDA in 1 year. |
Vice-presidents
Operations Directors or Directors General
Plant and Staff Management
Middle controls with high potential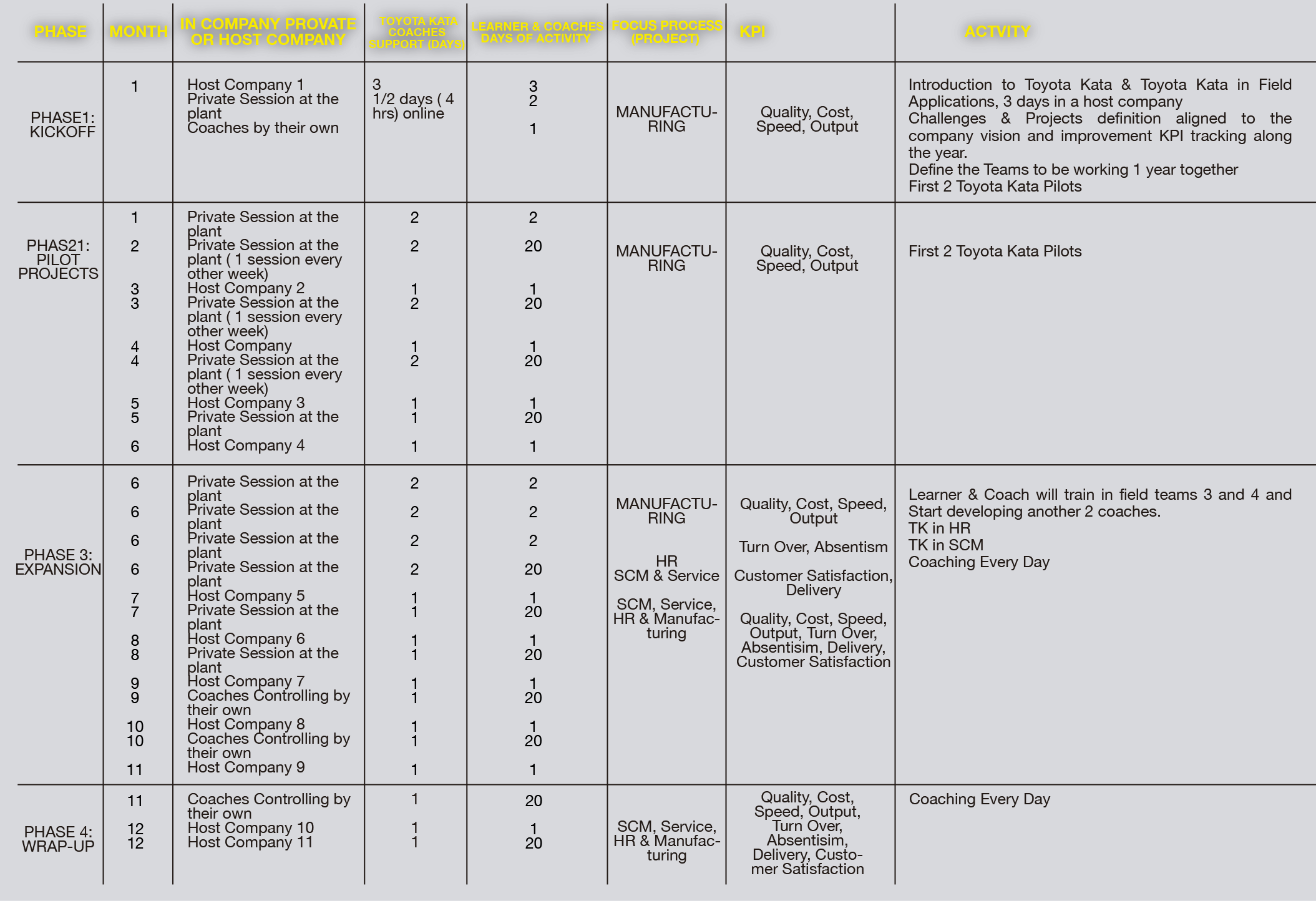 PROFESSIONAL PROFILE:
Hold a management position as a Senior Management such as: Plant Manager, Quality, Engineering, Supply Chain Human Resources, Finance, Logistics, or CI Manager. All those applicants must be in preparation for the next level in their carreer to be considered. Have an undergraduate degree on disciplines related to Engineering or Management. Have a very good command of English
PERSONAL PROFILE:
Be able to reflect and be self-critical to assimilate new knowledge.
Show service leadership to give support and help others.
Be tenacious and disciplined.
Be capable of identifying the main problem in a certain situation; distinguish between intrinsic and contextual elements; discover and weigh alternate solution and decision-making paths.
Be capable of observing and analyzing, so to notice important detains in the available data, as well the possible relationships among the elements of a problem to determine its relevance.
GRADUATE PROFILE
The Toyota Kata graduate will have the necessary skills to coach his/her personnel with the mindset and thinking of Lean principles. This will be done in such a way that the Lean Work Culture will be conveyed throughout the organization, and, in turn, will lead to enhanced benefit for all stakeholders, including the community. The TK program graduate will master the coaching and develop others from a business approach throughout the whole organization. They will be able to diagnose, design, and carry out strategies to achieve challenges in all areas of the business. The Lean MBA program graduate will have the leadership skills to defy paradigms and reinforce the performance of his/her collaborators. The TK program graduate will use avant-garde tools while applying their skills in the field. They will possess unique perspectives collected from live, experiences, and they will be expected to relate acquired knowledge within their own organizations. The TK program graduate will be able to perform in a Management and Senior Management role within any organization, coordinating improvements and strategic direction from a holistic operational and business perspective.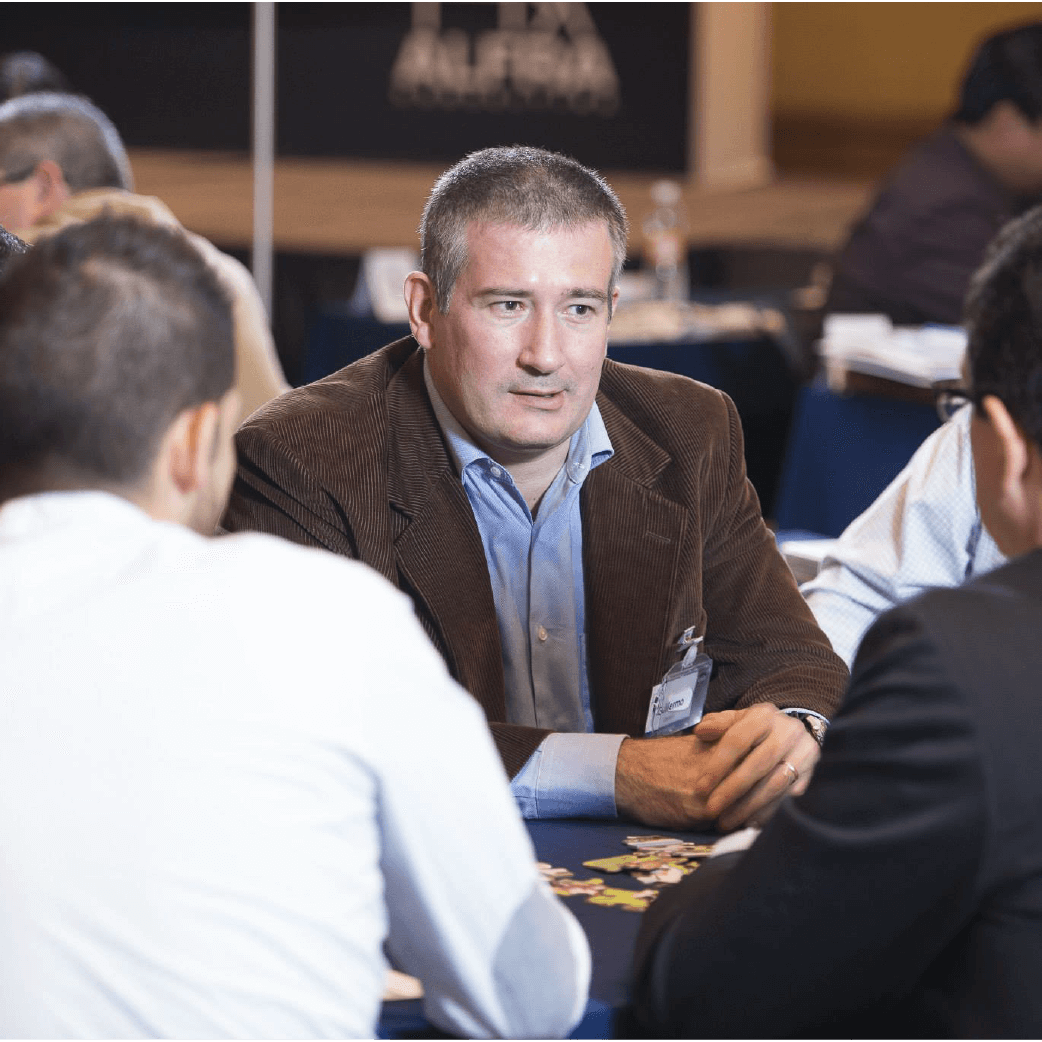 COMPANY & ALFRA Agreement:
Plant Manager will review Toyota Kata 1 to 3 hour a week and review implementations at the floor directly first hand information. Coach in Development must attend at minimum 10 of the 11 group sessions and spend 45 minutes a day developing teams in his own plant. Coach in Development can´t switch the company, if the Coach change company, alfra will not continue longer with his development in other plant or develop a new coach in the plant. Alfra will provide training and benchmark during 11 sessions (13 days) plus 14 days in the coach plant. Alfra will focus in company short term ( 6 months) business results while is developing their people for long term success. If coach and company support to the Toyota kata are not going according to the plan, Alfra will provide a warning directly to the plant manager, after 2 warnings Alfra can stop the development process without payback to the company, a warning can come up with just 2 weeks of not development.
Jeffrey Liker

Lean executive Advisor / Best Seller of the TOYOTA WAY

+ 34 YEARS TEACHING EXPERIENCE

RESUME
Author of the international best-seller, The Toyota Way: 14 Management Principles from the World's Greatest Manufacturer, McGraw Hill, 2004 which speaks to the underlying philosophy and principles that drive Toyota's quality and efficiency-obsessed culture. The companion (with David Meier) Toyota Way Fieldbook, Mcgraw Hill, 2005 details how companies can learn from the Toyota Way principles. His book with Jim Morgan, The Toyota Product Development System, Productivity Press, 2006, is the first that details the product development side of Toyota. Two books deal with the people side of lean: (with David Meier), Toyota Talent: Developing exceptional people the Toyota Way (May, 2007) and (with Michael Hoseus) Toyota Culture: The Heart and Soul of the Toyota Way (January, 2008). His articles and books have won nine Shingo Prizes for Research Excellence and The Toyota Way also won the 2005 Institute of Industrial Engineers Book of the Year Award and 2007 Sloan Industry Studies Book of the Year. He is frequent keynote speaker and consultant. Recent clients include Hertz, Caterpillar, AMD, Android, Areva, Rio Tinto Mining, Tenneco Automotive, Jacksonville Naval Air Depot, US Airforce Material Command, Johnson Controls, and Harley Davidson.

Francisco Ocejo

ALFRA GLOBAL DIRECTOR

Liker Lean Advisors Vice President
Toyota Kata Ambassador
Former VP IISE
Former Lean Manager at Celestica

Education
B.S. Industrial Engineering at Tec de Monterrey
Several Lean Certifications for international Institutes

SEE CURRICULUM
Francisco Ocejo is leading Alfra Lean Advisors a Consulting firm with over 1,500 customers companies from many countries. He also is the Vice President of Alfra Institute, a education organization to develop the top Management under a Lean MBA degree formed with Former Toyota executives and Top worldwide Management.
He has been learning, applying, and teaching the Toyota Production System in Canada, USA, Mexico, Latin America & Europe. He has taught and applied Lean Manufacturing tools (5S's, SW, SMED, Jidoka, Poka Yoke, Heijunka, JIT, etc.), from the senior management level to the operational levels closest to Gemba fro over 150 companies from international corporations, to mid-size and small family businesses from diferent industry sectors such as: Service, Logistics, Aerospace, Automotive, Electronic, Bank, Ceramic, Education, Defense Electronic, Food & Beverage, Gas & Oil, Electric Manufacturing, and several manufacturing sectors.
Francisco is a Toyota Kata Ambassador and Pioneer to spread the Toyota Kata in Mexico, he has been applyingTK with his colleague Dr. Jeff Liker ( author of the best seller the toyota Way) and many other Coaches in companies with the hieghest TPS people development.
For over 5 years he has been constantly trained by the Best Seller "Toyota Way (800 hrs)," the Ex President of JV Toyota China Mr Shingo (360 hrs), and various Toyota top Management ( + 1000 hrs).
His best expertise is in: Coaching Toyota Kata, Lean Manufacturing ,Lean Office, Lean Culture and Business Transformation.
He is an Industrial and Systems Engineering at the Monterrey Technical Institute. He has taught classes for students in over 15 Universities, lecturing in various Congresses in Mexico. Certified as Black Belt Six Sigma at Institution of Industrial Engineers, and the Theory of Constraints and Thinking Process at the EGADE of the Monterrey Technical Institute.
Francisco is a former Celestica leader & manager of the Lean Culture Transformation, with BlackBerry (RIM), Palm, HTC as Principals customers, with sales of over 1 billion dollars. Thistransformation involved over 5,000 people.

Based on his broad experience, Gustavo is expert applying a suitable approach for Continuous Improvement needed on the different organizations from a Business results optic, becoming an effective Coach for Top Management and support for The Toyota Way roles. Gustavo has learned The Toyota Way directly from its Author, Dr. Jeff Liker, and has applied it on Gemba as a Team with many Executives from Toyota specialized on General Management, TPM, Lean Mfg Tools, and Supply Chain. Gustavo has taught the Toyota Production System at all organizational levels and has applied over 50 companies of different sizes: Lean Leadership Systems (Hoshin Kanri, FMDS, and 8-Step Problem Solving), Toyota Kata for development, Supply Chain Management, TPM, Lean Manufacturing tools (5S's, SW, SMED, Jidoka, Poka Yoke, Heijunka, JIT, etc.), and Lean Office approach. On Six Sigma, Gustavo as Master Black Belt has trained and certified +500 Black Belts, Green Belts, and Yellow Belts. Gustavo has +20 years of experience on Continuous Improvement, Manufacturing, Process Engineering and Quality in large companies: Motor Wheel (Automotive), Kodak, Philips, Daltile, American Standard. He has +12 years of experience as Vice/President Staff as Continuous Improvement Director for American Standard México and Master Black Belt Champion for Daltile México. He has deployed programs that have achieved +$110 Million USD in savings with +3,000 projects on all departments: R&D, Engineering, Manufacturing, Maintenance, Quality, Logistics, Supply Chain, Sales, Marketing, Finance, HR, Energy. Over his 22 years experience, Gustavo has been exposed to many different organizations applying suitable Lean approaches on a variety of systems with diversity on leadership styles.

Lidia Flores

ALFRA Lean Consultant
Lidia has experience on the Toyota Way, Toyota Kata, Lean Leadership, Gemba Training for the last 2 years, she had been trained by Francisco Ocejo, Alfra Consulting Director Manager; Jeffrey Liker, author of the international best-seller The Toyota Way: 14 Management Principles; Ritshuo Shingo, who is Shigeo Shingo son and was the first president of JV Toyota China in 1998; Gary Convis, who was the first not Japanese President of JV Toyota in Kentucky, and other Top Management. Lidia has trained more than 100 clients on Lean Manufacturing, including General Managers, Manufacturing engineer, Quality, Finance and Logistics. She also is Lean Office Instructor with experience on Logistics, Service company, Human Resources, Purchasing and Engineering change projects improvement. Lidia´s principal customers and trainings: – Daimler Mercedes Benz, a bus assembly division; Lean Office and Toyota Kata training where we improve the engineering change applying Lean Office, we also reduce from 8 to 4 operators on the harness operation line in 3 days. – San Mina, an Oil and Gas Company, Lean Office training and consulting, we reduce the total lead time from 10 to 5 days on the logistic chain including planning, purchasing, materials and engineering. – DeAcero, wire division and steel. She participate on the DeAcero Production System, developing a continuous improvement system for logistic, purchasing, planning, shipping and production.

So we can know more about your needs