TOYOTA KATA COACH DEVELOPMENT
Sea uno de los primeros entrenadores en México expertos en el Toyota Kata y conviértase en una autoridad de Toyota Kata. Implementa proyectos que en suma proporcionan al menos 500k de dólares en ahorros contra el EBITDA en 1 año
El éxito de Toyota y de las empresas más exitosas ha sido su capacidad de adaptar, mejorar e innovar sus operaciones a través de un Liderazgo y Coaching enfocado en el proceso.
SOBRE TOYOTA KATA:
El toyota kata es un programa en el que entrenamos coaches. El programa ayuda a mejorar la calidad interna y externa de los clientes, la calidad de las operaciones y la velocidad del servicio, mejorando las habilidades de los recursos humanos para obtener un impacto en los principales indicadores de la organización tales como ventas, costos y crecimiento
Basado en el libro de Mike Rother, el toyota kata está traducido a más de 20 idiomas y actualmente lo están llevando a cabo grandes organizaciones.
Más de 200 empresas han ayudado en estos programas y han logrado mover su organización del punto A al punto B en términos de resultados, eliminando los defectos a cero, reduciendo el número de personas, es decir, aumentando el número de piezas por persona, mejorando el servicio, pero siempre encontrando un pensamiento científico en una forma de operación diferente que ellos no conocían y esto lleva a procesos de experimentación, procesos de reflexión, una forma en que el coach siempre está buscando preguntas, un aprendiz siempre está buscando respuestas y con esto para avanzar en la mejora continua día a día mejorando el sistema de liderazgo lean, formando una cultura de mejora continua basada en el pensamiento del sistema de producción de Toyota.
Mike Rother descubrió por qué las compañías habían tenido dificultades para copiar las herramientas de Toyota y fue allí donde aprendieron que el ADN de cada líder de toyota era la forma de pensar.
El Toyota kata te ayuda a sistematizar la manera de pensar de un líder dentro de Toyota que te permite crear tus propias herramientas donde hemos aplicado el Toyota Kata. Hemos visto que hay miles de herramientas que no son necesariamente herramientas delgadas, si no, cosas que uno ve en sus propias operaciones, herramientas, velocidades, avances, recortes … creamos soluciones para avanzar en diferentes implementaciones.
Vice Presidentes

Directores de Operaciones o Directores Generales

Gerencias de Planta y Staff

Mandos Medios con alto potencial
PERFIL PROFESIONAL:
Mantenga una posición gerencial como Gerencia Principal como: Gerente de Planta, Calidad, Ingeniería, Recursos Humanos de la Cadena de Suministro, Finanzas, Logística o Gerente de CI. Todos los solicitantes deben estar en preparación para el siguiente nivel en su carrera para ser considerado. Tener una licenciatura en disciplinas relacionadas con Ingeniería o Gestión. Tener un muy buen dominio del inglés 
PERFIL DE GRADUADO:
Ser capaz de reflexionar y ser autocrítico para asimilar nuevos conocimientos.

Muestre el liderazgo del servicio para brindar apoyo y ayudar a otros.

Sé tenaz y disciplinado.

Ser capaz de identificar el problema principal en una situación determinada; distinguir entre elementos intrínsecos y contextuales; descubrir y sopesar caminos alternativos de solución y toma de decisiones.

Ser capaz de observar y analizar, por lo tanto, observar detenciones importantes en los datos disponibles, así como las posibles relaciones entre los elementos de un problema para determinar su relevancia.
PERFIL DE GRADUADO
El graduado de Toyota Kata tendrá las habilidades necesarias para entrenar a su personal con la mentalidad y pensando en los principios Lean. Esto se hará de tal manera que Lean Work Culture se transmita a toda la organización y, a su vez, redundará en un mayor beneficio para todas las partes interesadas, incluida la comunidad. El graduado del programa TK dominará el coaching y desarrollará otros desde un enfoque comercial en toda la organización. Podrán diagnosticar, diseñar y llevar a cabo estrategias para lograr desafíos en todas las áreas del negocio. El graduado del programa Lean MBA tendrá las habilidades de liderazgo para desafiar paradigmas y reforzar el desempeño de sus colaboradores. El graduado del programa TK utilizará herramientas de vanguardia mientras aplica sus habilidades en el campo. Ellos poseerán perspectivas únicas recogidas de experiencias en vivo, y se espera que relacionen el conocimiento adquirido dentro de sus propias organizaciones. El egresado del programa TK podrá desempeñarse en un puesto de gestión y alta dirección dentro de cualquier organización, coordinando las mejoras y la dirección estratégica desde una perspectiva operacional y comercial holística.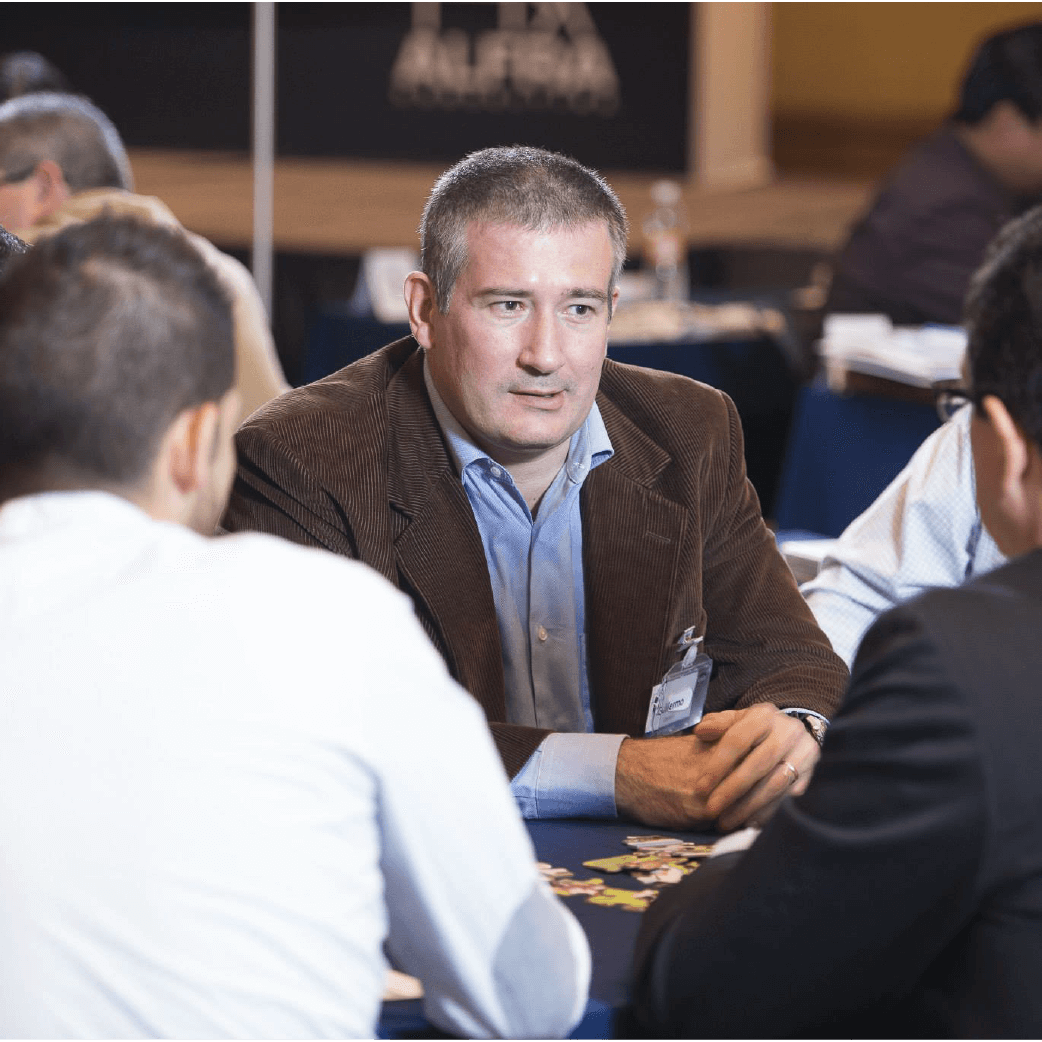 acuerdo COMPAÑIA y ALFRA:
Plant Manager revisará Toyota Kata de 1 a 3 horas a la semana y revisará las implementaciones en el piso directamente de primera mano.
Coach in Development debe asistir a un mínimo de 10 de las 11 sesiones grupales y dedicar 45 minutos al día a desarrollar equipos en su propia planta.
Coach in Development no puede cambiar de compañía, si el coach cambia de compañía, alfra no continuará más tiempo con su desarrollo en otra planta o desarrollará un nuevo coach en la planta.
Alfra proporcionará capacitación y puntos de referencia durante 11 sesiones (13 días) más 14 días en la planta de autobuses.
Alfra se enfocará en los resultados comerciales a corto plazo (6 meses) de la compañía mientras desarrolla a su gente para el éxito a largo plazo.
Si el apoyo de los entrenadores y la compañía al Toyota Kata no funciona de acuerdo con el plan, Alfra enviará una advertencia directamente al gerente de la planta, después de dos advertencias Alfra puede detener el proceso de desarrollo sin recuperación de la empresa, una advertencia puede venir solo 2 semanas de no desarrollo.
Jeffrey Liker

Lean executive Advisor / Best Seller of the TOYOTA WAY

+ 34 YEARS TEACHING EXPERIENCE

RESUME
Author of the international best-seller, The Toyota Way: 14 Management Principles from the World's Greatest Manufacturer, McGraw Hill, 2004 which speaks to the underlying philosophy and principles that drive Toyota's quality and efficiency-obsessed culture. The companion (with David Meier) Toyota Way Fieldbook, Mcgraw Hill, 2005 details how companies can learn from the Toyota Way principles. His book with Jim Morgan, The Toyota Product Development System, Productivity Press, 2006, is the first that details the product development side of Toyota. Two books deal with the people side of lean: (with David Meier), Toyota Talent: Developing exceptional people the Toyota Way (May, 2007) and (with Michael Hoseus) Toyota Culture: The Heart and Soul of the Toyota Way (January, 2008). His articles and books have won nine Shingo Prizes for Research Excellence and The Toyota Way also won the 2005 Institute of Industrial Engineers Book of the Year Award and 2007 Sloan Industry Studies Book of the Year. He is frequent keynote speaker and consultant. Recent clients include Hertz, Caterpillar, AMD, Android, Areva, Rio Tinto Mining, Tenneco Automotive, Jacksonville Naval Air Depot, US Airforce Material Command, Johnson Controls, and Harley Davidson.

Francisco Ocejo

ALFRA GLOBAL DIRECTOR

Liker Lean Advisors Vice President
Toyota Kata Ambassador
Former VP IISE
Former Lean Manager at Celestica

Education
B.S. Industrial Engineering at Tec de Monterrey
Several Lean Certifications for international Institutes

SEE CURRICULUM
Francisco is a Toyota Kata Ambassador and Pioneer to spread the Toyota Kata in Mexico, he has been applying TK with his colleague Dr. Jeff Liker ( author of the best seller the toyota Way) and many other Coaches in companies with the hieghest TPS people development. Francisco presents experience in Toyota Kata for the last 5 years within Automotive, Oil & gas, Plastic, Medical, Electronics, in Assembly, Machining and Machine and Autonomation. Is leading Alfra Lean Advisors a Consulting firm with over 1,500 customers companies from 7 countries. He also is the Vice President of Alfra Institute, a education organization to develop the top Management under a Lean MBA degree formed with Former Toyota executives and  Top worldwide Management.
He has been learning, applying, and teaching the Toyota Production System in Canada, USA, Mexico, Latin America & Europe. He has taught and applied Lean from the senior management level to the operational levels closest to Gemba fro over 150 companies from  international corporations, to mid-size and small family businesses from diferent industry sectors such as: Service, Logistics, Aerospace, Automotive, Electronic, Bank, Ceramic, Education, Defense Electronic, Food & Beverage, Gas & Oil, Electric Manufacturing, and several manufacturing sectors. 
Francisco is a Toyota Kata Ambassador and Pioneer to spread the Toyota Kata in Mexico, he has been applying TK with his colleague Dr. Jeff  Liker ( author of the best seller the toyota Way) and many other Coaches in companies with the hieghest TPS people development.
For over 5 years he has been constantly trained by the Best Seller "Toyota Way (800 hrs)," the Ex President of JV Toyota China Mr Shingo (360 hrs), and various Toyota top Management ( + 1000 hrs).
His best expertise is in: Coaching Toyota Kata, Lean Manufacturing ,Lean Office, Lean Culture and Business Transformation.
He is an Industrial and Systems Engineering at the Monterrey Technical Institute. He has taught classes for students in over 15 Universities, lecturing in various Congresses in Mexico. Certified as Black Belt Six Sigma at  Institution of Industrial Engineers, and the Theory of Constraints and Thinking Process at the EGADE of the Monterrey Technical Institute.
Francisco is a former  Celestica leader & manager of the Lean Culture Transformation, with BlackBerry (RIM), Palm, HTC as Principals customers, with sales of over 1 billion dollars. This transformation involved over 5,000 people.

 Based on his broad experience, Gustavo is expert applying a suitable approach for Continuous Improvement needed on the different organizations from a Business results optic, becoming an effective Coach for Top Management and support for The Toyota Way roles. Gustavo has learned The Toyota Way directly from its Author, Dr. Jeff Liker, and has applied it on Gemba as a Team with many Executives from Toyota specialized on General Management, TPM, Lean Mfg Tools, and Supply Chain. Gustavo has taught the Toyota Production System at all organizational levels and has applied over 50 companies of different sizes: Lean Leadership Systems (Hoshin Kanri, FMDS, and 8-Step Problem Solving), Toyota Kata for development, Supply Chain Management, TPM, Lean Manufacturing tools (5S's, SW, SMED, Jidoka, Poka Yoke, Heijunka, JIT, etc.), and Lean Office approach. On Six Sigma, Gustavo as Master Black Belt has trained and certified +500 Black Belts, Green Belts, and Yellow Belts. Gustavo has +20 years of experience on Continuous Improvement, Manufacturing, Process Engineering and Quality in large companies: Motor Wheel (Automotive), Kodak, Philips, Daltile, American Standard. He has +12 years of experience as Vice/President Staff as Continuous Improvement Director for American Standard México and Master Black Belt Champion for Daltile México. He has deployed programs that have achieved +$110 Million USD in savings with +3,000 projects on all departments: R&D, Engineering, Manufacturing, Maintenance, Quality, Logistics, Supply Chain, Sales, Marketing, Finance, HR, Energy. Over his 22 years experience, Gustavo has been exposed to many different organizations applying suitable Lean approaches on a variety of systems with diversity on leadership styles.

Lidia Flores

ALFRA Lean Consultant
Lidia has experience on the Toyota Way, Toyota Kata, Lean Leadership, Gemba Training for the last 2 years, she had been trained by Francisco Ocejo, Alfra Consulting Director Manager; Jeffrey Liker, author of the international best-seller The Toyota Way: 14 Management Principles; Ritshuo Shingo, who is Shigeo Shingo son and was the first president of JV Toyota China in 1998; Gary Convis, who was the first not Japanese President of JV Toyota in Kentucky, and other Top Management. Lidia has trained more than 100 clients on Lean Manufacturing, including General Managers, Manufacturing engineer, Quality, Finance and Logistics. She also is Lean Office Instructor with experience on Logistics, Service company, Human Resources, Purchasing and Engineering change projects improvement. Lidia´s principal customers and trainings: – Daimler Mercedes Benz, a bus assembly division; Lean Office and Toyota Kata training where we improve the engineering change applying Lean Office, we also reduce from 8 to 4 operators on the harness operation line in 3 days. – San Mina, an Oil and Gas Company, Lean Office training and consulting, we reduce the total lead time from 10 to 5 days on the logistic chain including planning, purchasing, materials and engineering. – DeAcero, wire division and steel. She participate on the DeAcero Production System, developing a continuous improvement system for logistic, purchasing, planning, shipping and production.